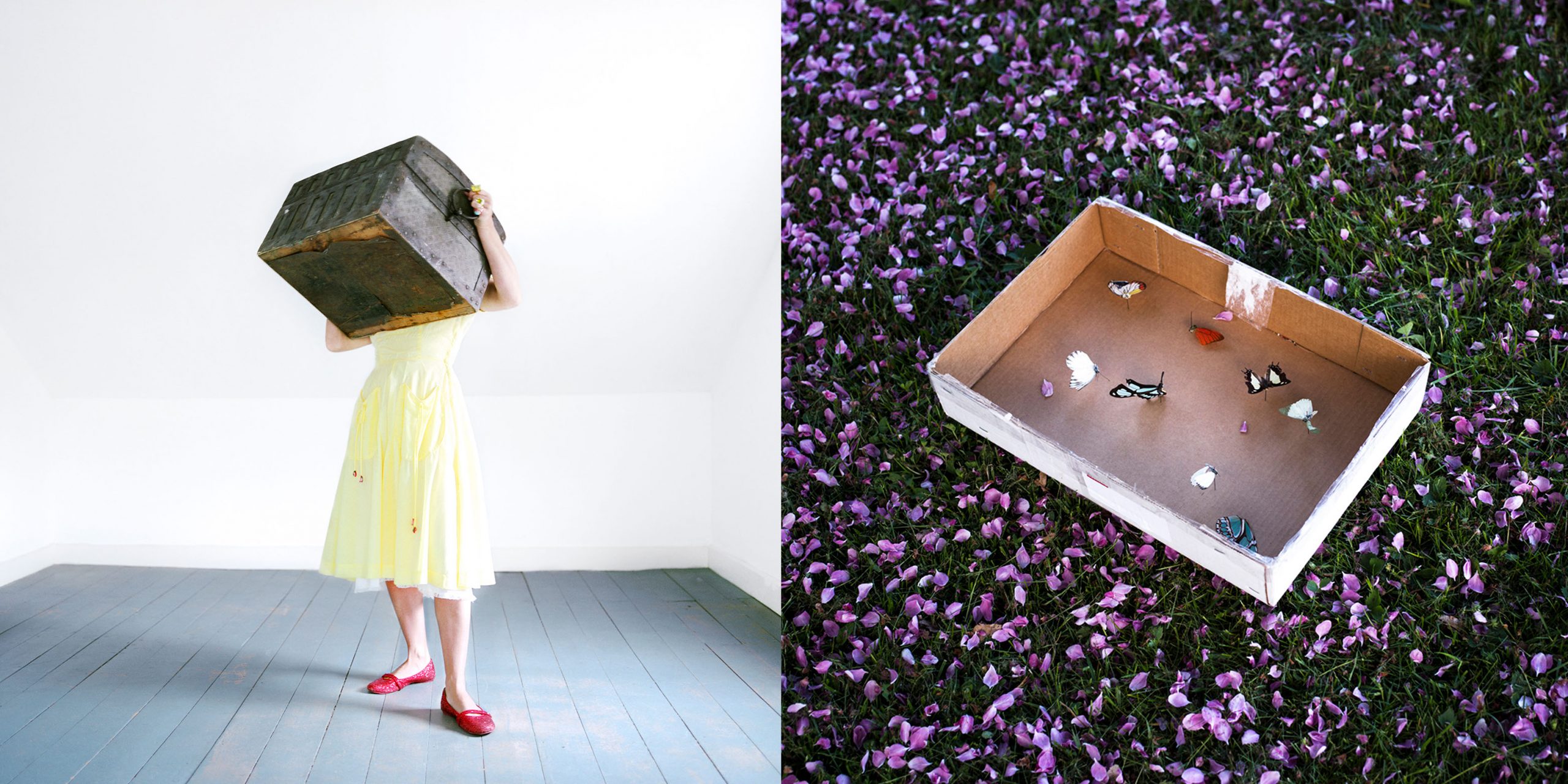 The first UK solo exhibition of work by Cig Harvey will open at Beetles + Huxley in September. Holding the Blue will showcase 30 photographs from Harvey's career, taken between 2003 and 2017, as a prelude to the publication of her new book You an Orchestra, You a Bomb released by Schlit Publishing in November.
Often highly orchestrated, Harvey's early works created a fantasy version of her own life experiences. Using herself as a model, each image was self-referential and meticulously mapped out to include specific metaphors, symbols and content. As her work progressed, Harvey introduced increasing amounts of spontaneity and branched out to include other models, such as neighbours, her daughter and husband. In Harvey's most recent work, which focuses on her home town in Maine, mundane locations and events are depicted with strange colour combinations or unexplained light, which lend the images an unsettling air.
Heavy with implied narrative, each photograph is a vignette – the visual equivalent of a short story. Seemingly random images of people, places and things, when combined, suggest the passing of time and seasons. The subjects of Harvey's photographs are usually partially concealed, whether it be through careful cropping, distance or her use of lighting – for example, a child behind a curtain, a woman obscured by the dappled light through a car window or a figure facing away from the camera into the sea. The symbols used throughout Harvey's work suggest a complex jigsaw to be pieced together by the viewer.
Born in Devon in 1973, Harvey began taking photographs aged thirteen. She moved to the US in 1999 to begin an MFA in photography at Rockport College, (now the Maine Media College), and began to take photographs 'about' things instead simply 'of' things, telling her own stories rather than other peoples'.
Image: © Cig Harvey
Beetles + Huxley, 3-5 Swallow Street, London, W1B 4DE
5th September 2017 – 16th September 2017
The Brechin Town House Museum presents an exhibition of contemporary printmaking featuring Shutter Hub member Kit Martin.
Kit Martin is based in north-east Fife and with a background in medical and forensic photography. Since Kit gets great enjoyment from the process of making an image in the darkroom, she works with alternative photographic processes and printmaking as well as digital photography.
Kit has been working with the zoology collection in Bell Pettigrew Museum in the University of St Andrews for the past three years. The majority of her work in this exhibition is from this magnificent Victorian collection, mostly of flying creatures inspired by the work of Professor James Bell Pettigrew himself. The Museum has kindly loaned some zoology exhibits that inspired this work.
Other work includes cyanotypes made at the sea shore and lumen prints which are contact prints made by placing fresh plant materials directly onto light-sensitive photographic paper and exposed to sunlight for around 3 hours.
Oxford born, Hetty Haxworth, studied at the Glasgow School of Art and has exhibited widely in the UK and abroad for the past 25 years. Her work has been shown at the Royal Academy Summer Exhibition, the Royal Scottish Academy and the Royal Glasgow Institute of Fine Arts, The Scottish Society of Artists and selected touring shows to Ohio, Australia, LA, Denmark and Brussels. She now lives and works from a studio in rural Aberdeenshire.
The series of monoprints on show document the movement of light over the Aberdeenshire landscape, capturing moments in colour. Within the work, regular furrows and pylon lines provide stripes, ploughed fields add a colourful patchwork, and framing this scene are the man-made structures, the rigid lines of fences and the cattle barns, that turn the landscape into a geometric study. The simplicity of the work comes from a direct feeling, a response to a moment.
Image: Haliaeetus albicilla © Kit Martin
Brechin Town House Museum, 28 High Street Brechin, Angus, DD9 6ER
2nd September 2017 – 30th September 2017
Mirroring Life

André Kertész (1894–1985)
Kertész is famous today for his extraordinary contribution to the language of photography in the 20th century. This retrospective marshals a large number of black and white prints as well as a selection of his colour photographs, highlighting his exceptional creative acuity to reconfigure reality through unusual compositions.
The exhibition comprises of his early work made in Hungary, his homeland, to Paris, where between 1925 and 1936 he was one of the leading figures in avant-garde photography, to New York, where he lived for nearly fifty years. The exhibition pays tribute to a photographer whom Henri Cartier-Bresson regarded as one of his masters, and reveals, despite an apparent diversity of periods and situations, themes and styles, the coherence of Kertész's poetic approach.
Image: Nageur sous l'eau, Esztergom, Hongrie, 1917 © Ministère de la Culture et de la
Foam Fotografiemuseum, Keizersgracht 609, Amsterdam
15th September 2017 – 10th January 2018
Observations:

David Fathi, Sjoerd Knibbeler, Jochen Lempert, August Strindberg
Observations takes as its starting point Swedish playwright and philosopher August Strindberg's early photographic experiments from 1894, the 'Celestographs'. In these 'photographs', Strindberg placed sensitized photographic plates outside in an attempt to gain a visual record of the night sky. Over time, an image emerged on the plates resembling the star strewn skies, with mottled patches and swirls of blues, browns, greens and golds. In actuality they were formed from the chemical process of the metal plates degrading due to being exposed over long periods of time to the air. Rather than the universe revealing itself through the spectacle of the night sky as would have been perceived by viewers at the time, the Celestographs represent the irrepressible process of entropy and decay. The powerful conceptual readings of these works set the stage for a series of works by contemporary photographers David Fathi, Sjoerd Knibbeler and Jochen Lempert, whose work, in a variety of ways seeks to observe and record the natural world around us.
David Fathi's series 'Wolfgang' presents the tale of one of the founders of quantum physics, Wolfgang Ernst Pauli, nicknamed the 'Conscience of Physics'. Legend says that when Pauli entered a room, experiments would fail and machinery would break down, something that his colleagues began to jokingly refer to as 'The Pauli Effect'. In this playful body of work, photographer and engineer Fathi creates a semi-fiction working with and manipulating images from the CERN photo archive, capturing the essence of Pauli's presence through scenes of experiments, accidents, levitation, teleportation and spontaneous appearances.
Sjoerd Knibbeler employs photography as a means to visualise, often invisible, natural phenomena such as air, wind, flight and space. Knibbeler carries out fragile, ephemeral constructions and experiments both in his studio and on site, resulting in series' of otherworldly images where it is often difficult to tell if what we see is in fact real. Through the materials he uses and the conditions he visualises, he explores the paradoxical relationship between the still, two-dimensional character of photography, and his often transparent, moving, voluminous subjects.
Jochen Lempert has worked with photography since the early 1990's, with his background as a biologist playing a critical role in his application of the medium. Lempert turns his scientific gaze upon the world around him, nature and creatures. His analogue black and white prints present a compelling, complex yet incomplete encyclopaedia of morphological studies of plants and animals, highlighting natural patterns and movement.
Image: Untitled, from the series Wolfgang © David Fathi, 2016
Belfast Exposed Photography, The Exchange Place, 23 Donegall Street, Belfast BT1 2FF
1st September 2017- 14th October 2017
How, in 2017, do we bring about meaningful change?
Open 3: Affecting Change looks at how real change is made today, and what role photography has in that process. The exhibition features five rising photographers working in the North West.
The works on show look into the daily lives of people working hard to transform the lives of others. The artists have worked in collaboration with various collectives across Liverpool, a city renowned for transcending insular politics by championing positive change.
To produce the work in the show, the five young artists have immersed themselves in the practices of five community organisations driving positive change. Rather than document their normal rituals, the artists worked alongside the people in each organisation to encapsulate their ethos and share their successes.
Image: © Yetunde Adebiyi Yarls Wood, 2017
Open Eye Gallery, 19 Mann Island, Liverpool Waterfront, Liverpool, L3 1BP
7th July 2017 – 17th September 2017
This exhibition showcases over seventy images, which journey across the United States of America, an examination of cultural symbolism and how the motifs we associate with America have affected the reality of place and people.
Landing in Memphis and driving west on the I-40, Missen was perturbed to discover that the America he expected simply didn't exist, feeling he was mis-sold; the America he was seeking felt out of reach. "What I ultimately came to realise was that the America I expected did exist – but only in small pockets. It had to be sought out and curated into a kind of simulacrum and in turn became an analogy for the act of photographing itself; an odd exercise in choosing what to point the camera at, what to exclude or ignore and what to embrace."
What 'Q&A' opens up is the space between our imagination and reality, Missen playfully explores this nature of myth when applied to a collective understanding of the United States, provocatively investigating the relationship between a place and its own mythos. Missen visited forty states, over four years capturing America's cultural markers – the flags, the cars, the mountain ranges – and critically examining their propagation as undoubted realities.
Intrigued by the concept that continued representation of these markers can create a sense of familiarity for the viewer, despite never having visited the place itself, Missen unpicks these symbols, and in turn, the myth of America.
Image: © Alexander Missen, courtesy Francesca Maffeo Gallery
Francesca Maffeo Gallery, 284 Leigh Road, Leigh-on-Sea, Essex, SS9 1BW
9th September 2017 – 28th October 2017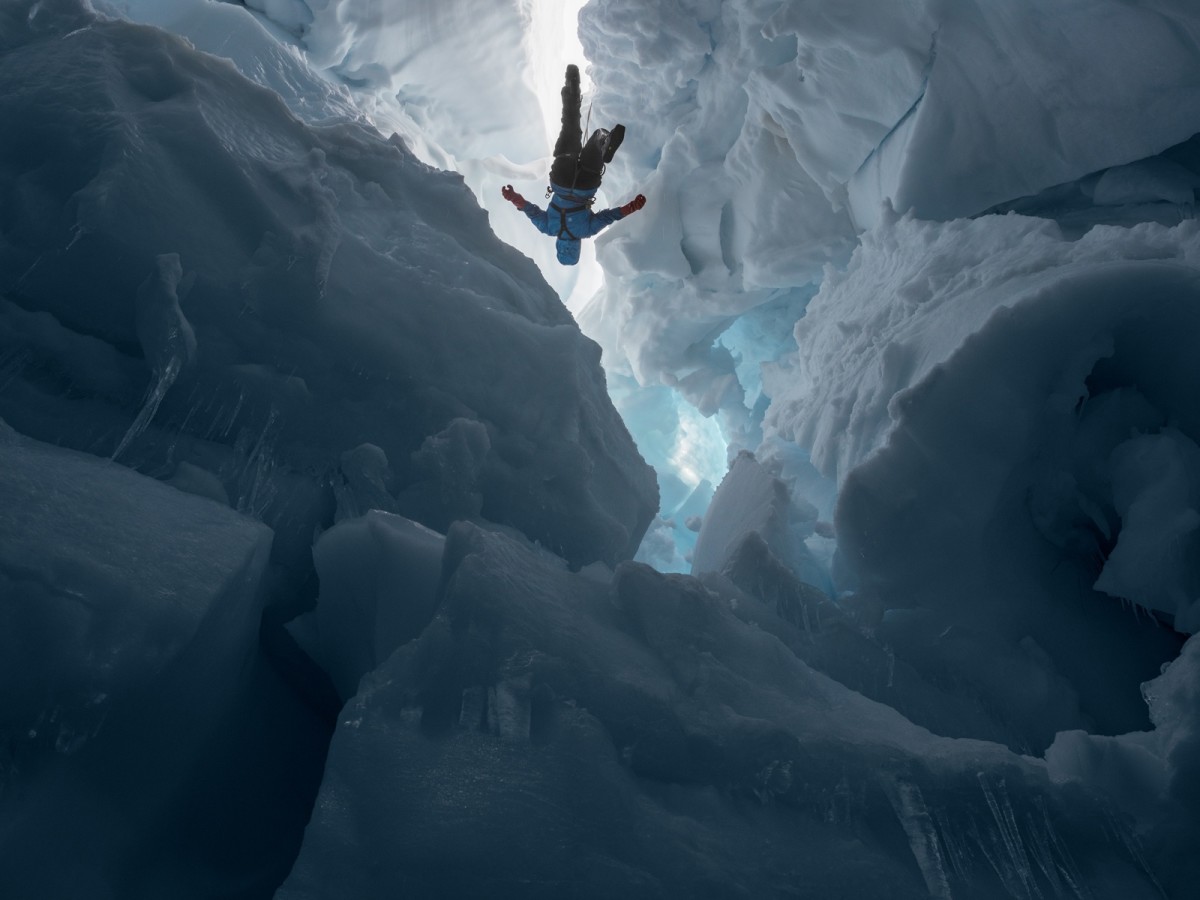 Human Nature leads us through Foglia's journey in sequences of photographs. It begins and ends with interpretations of paradise, moving through cities, forests, farms, deserts, ice fields, and oceans in between. Scientists are pictured as they work to quantify and understand our relationship with the natural world, measuring how we change nature and how spending time in wild spaces changes us.
Both factual and lyrical, the series is a celebration of the curious. At times funny, at others, sad or sensual, the images illuminate the human need to connect with nature and to the wildness in ourselves.
Foglia's work is driven by a desire to understand the conflicting forces of modernity and nature; how we manipulate the earth to sap its resources, and how some seek to restore it. Human Nature revisits themes established in previous projects A Natural Order and Frontcountry, but on a broader, global scale.
Image: Kenzie Inside A Melting Galcier © Lucas Foglia
Michael Hoppen Gallery, 3 Jubilee Place, London, SW3 3TD
13th September 2017 – 21st October 2017
Aleksandra Vajd & Markéta Othová: What Is Life?
This exhibition presents current work by two eminent figures in Central and East European photography, Markéta Othová (1968, Prague) and Aleksandra Vajd (1971, Maribor, Slovenia) and, at the same time, highlights the universal quality of the photographic medium. This is not only their first joint exhibition in the UK, but also their first exhibition together.
Othová is known, above all, for her series of large-format photographs, whose meaning is predominantly derived from the formal and cultural-historical quality of the captured objects, such as architecture or applied arts. Vajd has recently focused on reductive photographic work, which explores the limits of the medium, with particular emphasis on its materiality.
For Street Level Photoworks, they have prepared an exhibition in which their means of expression complement each other. While Markéta Othová interprets photography as a transparent medium which confronts the viewer with technical quality, texture and the reality of the world, Aleksandra Vajd emphasises the material quality of the same photographs. It is exactly these contrasting approaches which allow the viewer to see the photographic medium in its fundamental ambivalence.
Image: © Aleksandra Vajd
Street Level Photoworks, Trongate 103, Glasgow, G1 5HD
9th September 2017 – 18th November 2017
Got an exhibition you want to share? Drop us an email with a paragraph about the exhibition, web link, details and an image.