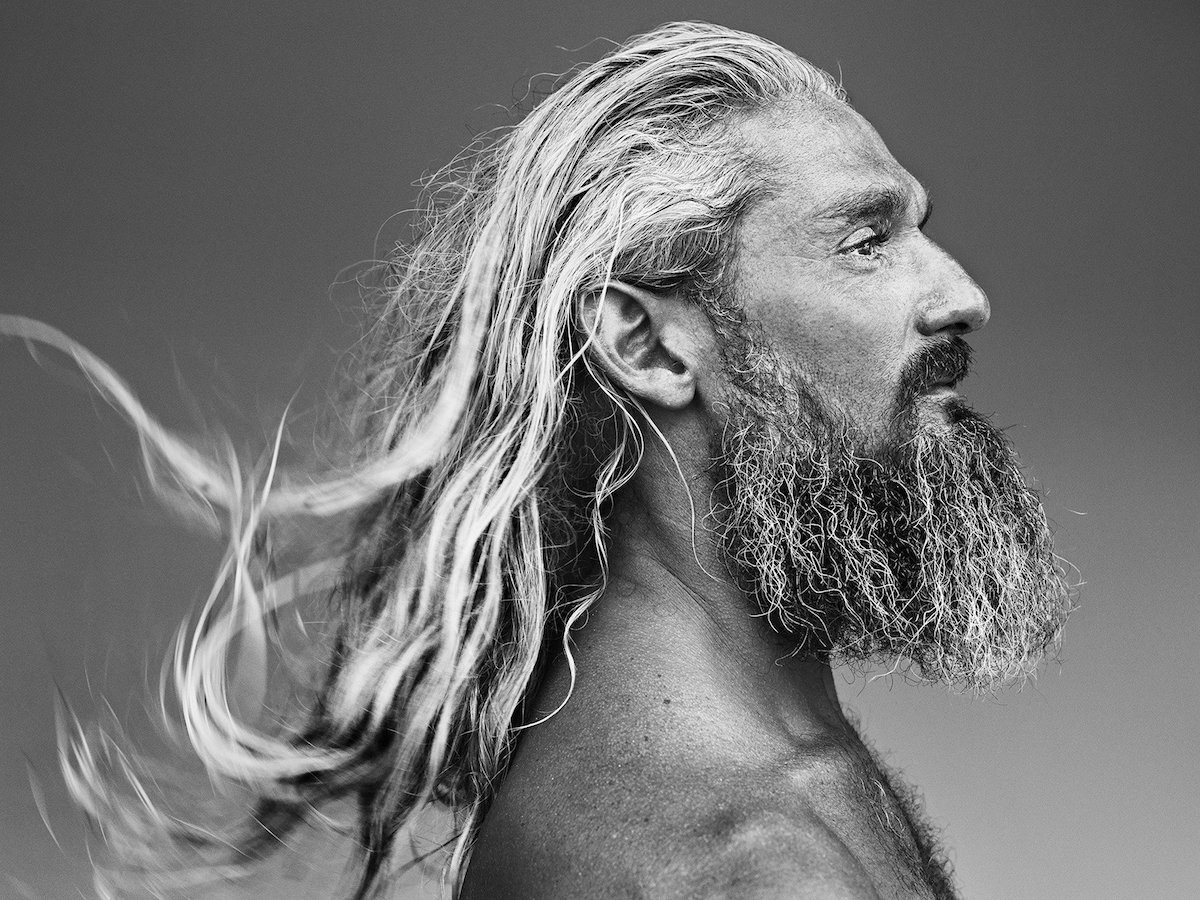 Surf Tribe
Stephan Vanfleteren
Kunsthal Rotterdam is proud to present the photo exhibition 'Surf Tribe'. In his recent project, the Belgian photographer Stephan Vanfleteren (Kortrijk, 1969) exposes a culture dominated by a deep respect for the ocean. Vanfleteren looks beyond the traditional surf spots of California and Hawaii and travels all over the world in search of people who live where the ocean meets the land. There he manages to capture the almost fluid community of 'subjects of the mighty Surf Tribe' whose only ruler is nature. They are not depicted in action shots while riding azure waves, but in serene black-and-white portraits shot in Vanfleteren's own pure and gripping style.
Love of water and addiction to the wave for eighteen months, Stephan Vanfleteren plunged deep into the world of the international surf community. During numerous encounters and adventures, he managed to capture many surfers with his camera. With more than seventy distinctive black-and-white portraits, the exhibition 'Surf Tribe' is an ode to the people whose souls belong to the ocean. The photos reveal the real individuals behind the surfers, in all their strength and vulnerability. What unites them is their love of water and their addiction to the wave. That feeling of insignificance in the face of the forces of nature, the fights lost and won – with others, but above all with themselves.
Kunsthal, Museumpark, Westzeedijk 341, 3015 AA Rotterdam, Netherlands
13th October 2018 – 13th January 2019
Arctic: New Frontier — A double polar expedition
by Yuri Kozyrev & Kadir van Lohuizen
Dedicated to the Arctic and chaired by climatologist Jean Jouzel, winner of the 2012 Vetlesen Award and co-winner of the 2007 Nobel Peace Award as Director of the IPCC, and under the patronage of Minister Ségolène Royal, French Ambassador for the Arctic and Antarctic Poles, the 9th edition of the Carmignac Photojournalism Award was awarded to Yuri Kozyrev and Kadir van Lohuizen (NOOR). Their pioneering double polar expedition, "Arctic: New Frontier", focuses on the consequences of the melting of the sea ice for the planet, and the medium-term prospect of its total disappearance will be exhibited at from November 7 through December 9, 2018.
Cité des Sciences et de l'Industrie, La Villette, Paris
7th November 2018 – 9th December 2018
A unique collaboration developed over two decades between Buz Williams, General Manager of Waterman's when it first opened in 1984, his wife, actor movement specialist Debbie Green and photographer Clare Park, resulted in the narrative photographic series Breaking Form: Buz and Parkinson's. Buz had been diagnosed with early onset Parkinson's in 1979. The photographic imagery derived from the collaborators' shared professional backgrounds of theatre, dance and movement. The pictures and words provided a context in which Buz could communicate in his inimitable style. By placing himself in the public sphere and gaze, he found a sense of power and self-recognition at a time when control was diminishing in his everyday life.  After more than 30 years of living with Parkinson's, Buz died in 2014. Since then, Clare and Debbie have continued working together to create one photograph each month inspired by their lives as friends and artistic collaborators. Breaking Form: Re-Formed emerged as an evocation of their realities – losses and frailties, curiosity and optimism – and as a final salute to the transformative spirit of Buz.
Watermans Art Centre, Riverside Gallery, 40 High St, Brentford, TW8 0DS
2nd November 2018 – 30th November 2018
With several recent studies highlighting the extent of the gender inequality in the creative industries and the 'motherhood penalty' playing a large role in the gender pay gap in the UK, mothers face a number of barriers in accessing and developing a career in the visual arts. Not only do childcare, financial and cultural barriers hinder the career progression of mother-artists, but artwork which focuses of the role of motherhood, reproduction and care-taking has regularly been dismissed and devalued within the contemporary arts. While the old 'pram in the hallway' debate lives on, 'oh motHER' aims to highlight the diversity of work being made by mother artists worldwide.  The exhibition touches on themes including maternal mental health, the mother-child relationship, emotional labour, breastfeeding and maternal ambivalence, and features Shutter Hub member Anneleen Lindsay.
Custom House Leith, 65-67 Commercial Street, Edinburgh, Scotland, EH6 6LH
27th October 2018 – 5th November 2018
Presented simultaneously at The Photographers' Gallery and Jewish Museum London, Roman Vishniac Rediscovered is the first UK retrospective of Russian born American photographer, Roman Vishniac (1897–1990).
An extraordinarily versatile and innovative photographer, Vishniac is best known for having created one of the most widely recognised and reproduced photographic records of Jewish life in Eastern Europe between the two World Wars. Featuring many of his most iconic works, this comprehensive exhibition further introduces recently discovered and lesser-known chapters of his photographic career from the early 1920s to the late 1970s. The cross-venue exhibition presents radically diverse bodies of work and positions Vishniac as one of the most important social documentary photographers of the 20th century whose work also sits within a broader tradition of 1930s modernist photography.
Born in Pavlovsk, Russia in 1897 to a Jewish family Roman Vishniac was raised in Moscow. On his seventh birthday, he was given a camera and a microscope which began a lifelong fascination with photography and science. He began to conduct early scientific experiments attaching the camera to the microscope and as a teenager became an avid amateur photographer and student of biology, chemistry and zoology. In 1920, following the Bolshevik Revolution, he immigrated to Berlin where he joined some of the city's many flourishing camera clubs. Inspired by the cosmopolitanism and rich cultural experimentation in Berlin at this time, Vishniac used his camera to document his surroundings. This early body of work reflects the influence of European modernism with his framing and compositions favouring sharp angles and dramatic use of light and shade to inform his subject matter.
Vishniac's development as a photographer coincided with the enormous political changes occurring in Germany, which he steadfastly captured in his images. They represent an unsettling visual foreboding of the growing signs of oppression, the loss of rights for Jews, the rise of Nazism in Germany, the insidious propaganda swastika flags and military parades, which were taking over both the streets and daily life.
The Photographer's Gallery, 16 – 18 Ramillies Street, London, W1F 7LW
 26th October 2018 – 24th February 2019
An exhibition hosting a series of large-scale photographic prints by photographer David Stewart. Stewart is gamekeeper turned poacher as he uses the setting of the ad agency to explore the changing face of workplace culture due to the growth of large faceless corporations.
Wren London, 39 Featherstone Street, London EC1Y 8RE
28th September 2018 – 17th November 2018
The Photography Spotlight celebrates the opening of the V&A Photography Centre, home to the national collection of the art of photography. Enjoy a dynamic series of talks, workshops and special events, including an international two-day conference.  
From early daguerreotypes to contemporary digital images, explore the history of photography through the lens of collecting and consider photography itself as a way of collecting the universe. Discover the extraordinary breadth of the V&A's photography collection, which has been growing and evolving since the 1850s, and was recently augmented by the transfer of the Royal Photographic Society collection.
V&A, Cromwell Road, London SW7 2RL
22nd October 2018 – 27th November 2018
Adele Mary Reed has been experimenting with photographic imagery for over 15 years. Her most common focus is on using 35mm film, with which she documents her explorations of Coventry and beyond. Reed's work seeks to highlight the inconspicuous beauty within moments and things occurring during day-to-day life. It is the first time that the prints on view in this exhibition have been shown – this is a great opportunity to see the playful way in which Reed captures what she finds.
After the opening, the exhibition will be open on 2nd November 2018 – 29th November 2018
Open Tuesday and Thursdays 11:30 – 17:00, until 29th November. Appointments outside the main times may be made by emailing sayhello@weareclassroom.com
Class Room, 16 Lower Holyhead CV1 3AU Coventry, United Kingdom