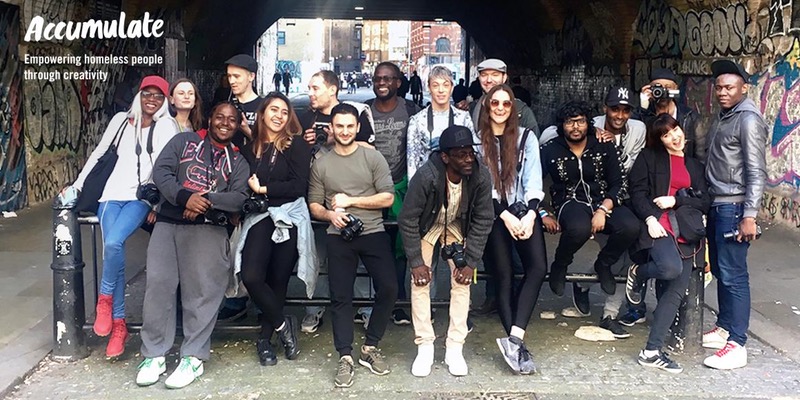 "Made By Us", an exhibition of photographs by young people affected by homelessness
Made By Us celebrates the creative achievements of a group of young people, living in hostels and temporary accommodation, who took part in this year's Accumulate (previously Accumul8) photography workshops.
The Accumulate photography workshops give the young person a much-needed opportunity to leave their environment, learn new skills, make friends and explore their creativity. Most importantly, their self-confidence and sense of personal value increases, which helps them to become more positive and, so, make more positive decisions in their lives and for their future.
At the Made By Us exhibition private view you will be able to see the striking images, talk to the Accumulate participants about their creative work and experience how creativity has made a real difference to people's lives.
Accumulate 2017: 9 hostels, 23 participants, 15 photography workshops, 10 student helpers, 3 scholarships, 2 tutors & 1 amazing exhibition.
–– Private view
Thursday 11 May: 7:00 – 8:30pm
RSVP via this link
The Guardian

Kings Place, 90 York Way, Kings Cross, London , N1 9GU
12th May 2017 – 3rd June 2017
MANUS: ab.sum – Amy Rockett-Todd
Shutter Hub member Amy Rockett-Todd has a way of seeing and interpreting the environment through a lens tinted with hues of her architectural background. Her current work explores the relationships between the hand and technology, through alternative photographic processes. The final arrangements emerge from a photographic birth with a resting place in the visual arts. She works in the wet plate collodion process, as well as traditional pinhole photography.
Drawing from a history of past studies in the Latin language, Amy uses Latin portfolio descriptors. Her latest work, MANUS (Latin for "hand") presents a re-emergence of hands-on photographic processes, such as wet plate collodion, yet she enjoys marrying modern techniques with antiquated ones. The imagery also follows a modern aesthetic, employing digital photo-manipulations of pieces of architecture and natural flora. Using digital positives, Amy returns to the 1800s process for final output. For select arrangements, a focus on the unique structural aspects of a particular building or site is translated into the final structural-relief tintype assemblage.
Her current portfolio, MANUS: ab.sum, explores environments and our existence within them, as well as our abandonment of them.
MANUS : ab.sum
environments that once carried us,
supported us;
these were tended and nurtured by us.
a co-existence between man and environment
now left behind.
absum is a Latin term meaning: i a m a w a y
nature plays an integral part,
as it is either being pushed out
for current habitation
or
it is reclaiming its place,
in absum.
Image: © Amy Rockett-Todd
Hardesty Arts Center (AHHA Tulsa)

Arts & Humanities Council of Tulsa, 101 East Archer Street, Tulsa, Oklahoma USA 74103
April 7th 2017 – May 21st, 2017
Sony World Photography Awards & Martin Parr – 2017 Exhibition
The exhibition will showcase the winning, shortlisted and commended images from the 2017 Sony World Photography Awards, and will also present a unique selection of images, books and film from legendary photographer Martin Parr.
Bringing to London a complete celebration of photography – showcasing a variety of genres from Architecture, Daily life, Documentary, Landscape, Portraiture, Sports, Street Photography, Wildlife and many more…
Throughout the duration of the 2017 Exhibition, there will be a series of events and talks with Martin Parr & other industry experts, covering a broad range of subjects and discussions.
Book your tickets here to get an exclusive 20% discount.
Somerset House

London
21st April 2017 – 7th May 2017
The Woman Who Never Existed – Anja Niemi
The Woman Who Never Existed by Anja Niemi was inspired by the words of the pioneering Italian actress Eleonora Duse. Eleonora worked the international theatre stage alongside Sara Bernhardt in the early 20th century. In contrast to Bernhardt's outgoing personality, Duse was introverted and private, rarely giving interviews. She once famously told a pushy New York journalist, that 'away from the stage I do not exist.'
Niemi takes on the role of a fictional character visualized after reading Eleonora's words. The Woman Who Never Existed tells the story of an actress who only exists in front of an audience, when no one is looking she starts to disappear.
In the same way as before Niemi works alone. Photographing, staging and acting out the characters in all of her photographs.
Image: © Anja Niemi / The Little Black Gallery
The Little Black Gallery

13A Park Walk, Chelsea, London, SW10 0AJ
4th May 2017 – 27th May 2017
Mahtab Hussain's photographs explore the critical question of identity among young working-class British Asian men.
You Get Me? addresses the contested political terrain of race and representation, respect and cultural difference.
The men portrayed in Hussain's portraits identify as Muslim, and expressed that they felt culturally ridiculed by the constant flow of derogatory media representation of their lives.
The 24 portraits in the exhibition examine how the weight of masculinity impacts the subject's sense of self, as they navigate the complex identity formations historically placed upon them.
Hussain photographed the series over a nine-year period in Birmingham – where he grew up – stopping individuals in the street and starting conversations as he took their portrait. He later expanded the project to London and Nottingham.
A photobook of You Get Me? will be published by MACK in June to coincide with the exhibition.
Image: © Mahtab Hussain, Red t-shirt, baseball jacket, car, from You Get Me?, 2012.
Autograph ABP

Rivington Place, London, EC2A 3BA
5th May 2017 – 1st July 2017
French photographer and cinematographer of Romanian origin, Eli Lotar (Eliazar Lotar Teodorescu, Paris, 1905 – 1969) arrived in France in 1924 and rapidly became one of the first avant-garde photographers in Paris. Close to Germaine Krull —Lotar worked as her apprentice for a time —and later to the Surrealists, his work was published in many of the avant-garde publications of the day, and featured in several major international photography exhibitions, including Fotographie der Gegenwart, Film und Foto, Documents de la vie sociale, etc.
The Eli Lotar Retrospective (1905 – 1969) allows visitors to discover the scope of Lotar's work from a new light and reveals the role of this important figure in modern photography. The exhibition is organized around key themes ranging from the New Vision Movement to documentary film, as well as Lotar's urban, industrial and maritime landscapes. A selection of portraits taken by the photographer can also be seen, revealing his interest in having his models adopt various poses for the camera. They also demonstrate the close ties he had to many of the leading artists of his day.
The exhibition brings together over one hundred vintage prints taken from approximately fifteen different collections and international institutions, as well as a selection of a hundred or so documents (books, magazines, letters, negatives, films) illustrating the diversity and scope of Eli Lotar's work. The exhibition is organized into five thematic sections. The work however, is not necessarily presented in chronological order.
Eli Lotar's contribution to Modernism has benefited from a belated recognition however it wasn't until the early 1990s that a first retrospective was devoted to the artist's work at the Centre Pompidou. Since then, greater research into the fields of Surrealism and interwar photography, as well as cinema, has allowed experts and the public alike to consider Lotar's work in a new light and to appreciate the singularity of his career and visual universe. This retrospective exhibition was co-produced by the Jeu de Paume and the Centre Pompidou Paris and includes work from the photographic archives of the Centre Pompidou, as well as vintage prints from a variety of international institutions and collections.
Image: Archives Tériade, musée départemental Matisse, Le Cateau-Cambrésis. © Eli Lotar
14th Feb 2017 – 28th May 2017
Parasol unit foundation for contemporary art is delighted to present an exhibition of photographic works by German artist Elger Esser. This exhibition, his first solo show in a public institution in the United Kingdom, focuses on a new series of works, entitled Morgenland, created during his travels in the Eastern countries of Lebanon, Egypt and Israel from 2004 to 2015.
Shown for the first time at Parasol unit, the Morgenland (morning land) series refers to the concept of the Orient or the East. Rather than reflecting a negative stereotypical 'Orientalism' with its links to cultural colonialism, as discussed by Edward Said in his 1978 seminal book on the subject, Esser's depictions of the Near East aim to convey a sense of reconciliation amidst regional differences and historical issues.
Travelling along the Lebanese shore in 2004 and the Nile between Luxor and Aswan in 2011, Esser photographed the banks of rivers, traditional feluccas and dahabiya sailing vessels, using an 8 x 10 Land camera. Captured from a great distance, Esser's calm awe-inspiring landscapes, somewhat reminiscent of the romantic images of faraway lands on old postcards, seem to convey a sense of the infinite. Their quiet and serene beauty, however, is disturbing because it is in such stark contrast to what we know of the ugly conflicts taking place in the region today and how they are generally portrayed in the media.
During a visit to Israel in 2015, Esser created a series of works based on some archival photographs taken by an unknown photographer who had documented the existence of ruins in Israel/Palestine during 1948. With his series, Esser aims to present a timeline of conflicts, dating from the Byzantine period to recent times, showing the development and decay of cultural periods. Landscapes are seen as stratifications, layers upon layers of different cultures. The work One Sky, 2015, shows two panoramas printed back-to-back on a silver-coated copper plate. One side displays a view as seen from Lebanon, while the other side presents the same view as seen from Israel. Although both scenes are so similar they appear to be the same, they present us with a single location as seen from opposite perspectives.
This exhibition, curated by Ziba Ardalan, is accompanied by a full programme of educational events aimed at engaging the public.
Image: © Elger Esser, 'Enfeh I' (detail), Lebanon, 2005. C-print, Diasec, 142 x 184 x 5 cm (56 x 72½ x 2 in). Courtesy of the artist.
Parasol Unit Foundation for Contemporary Art

14 Wharf Road, London, N1 7RW
29th March 2017 – 21st May 2017
The next London Photo Festival is 18th-20th May 2017 and the theme is Travel Photography.
The Festival is open to photographers worldwide and is free to visit.
Image: © Michelle Margaux
The Crypt, St George the Martyr Church

Borough High Street

London

SE1 2JA
18th May 2017 – 20th May 2017
Got an exhibition you want to share? Drop us an email with a paragraph about the exhibition, web link, details and an image.