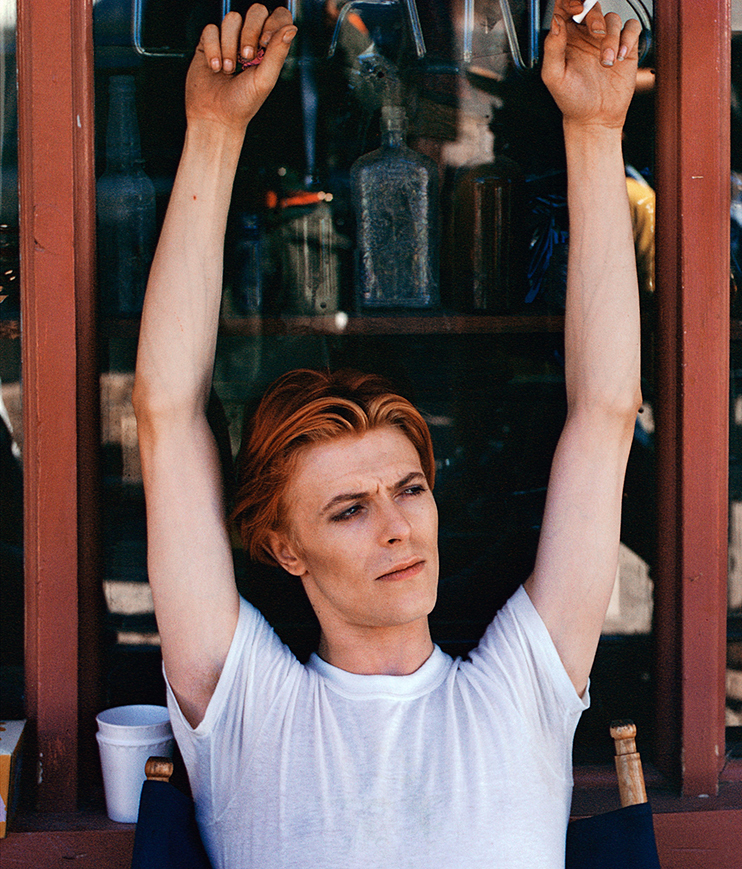 David Bowie, The Geoff MacCormack Collection
Francesca Maffeo Gallery is delighted to present 'David Bowie, The Geoff MacCormack Collection' by writer, producer and photographer Geoff MacCormack. This exhibition is the first solo show of these intimate photographs of two friends, travelling side by side between 1973-1976.
In addition to the photographs, we are pleased to present 'The Long Way Home' a cine film shot by Bowie documenting the progress of their trip from the docks in Japan through Siberia/Russia on 'The Tran Siberian Express' to Moscow for the 'May Day Parade'.
Five of the images in this film are in 'The Geoff MacCormack Collection', we are honoured to be able to offer all photographs from the collection for sale through Francesca Maffeo Gallery, this includes two unique editions signed by David Bowie.
"Just suppose your Brilliant Pal said: "Will you join my band [The Spiders from Mars] and come on a tour? And would you mind awfully if we travelled [first class] by sea to New York, and then sailed from Los Angeles to San Francisco, Canada, Hawaii and on to Japan? And then, from Japan to Siberia, through Russia [Trans-Siberian Express] to Moscow [for May Day Parade], Poland, East and West Germany, just in time for tea at the George V Hotel in Paris? Followed by a relaxing holiday in Rome, just to chill out?
And then, just suppose, when you thought all the fun had finished, your Brilliant Pal said: "Would you mind being a dog [Diamond], coming back to New York on an even better ship, eating caviar every day and joining another band, then another band, helping out on a few albums [six], and generally hanging out and having the time of your life for a couple more years?
Supposing all that happened…Wouldn't it be fantastic to have kept a photo or two?" (G.MacCormack)
Image: © Geoff MacCormack, courtesy Francesca Maffeo Gallery
Francesca Maffeo Gallery, Leigh Road, Leigh on Sea, Essex, SS9 1BW
24th March 2018 – 14th April 2018
Another Kind of Life

Photography on the Margins
Touching on themes of countercultures, subcultures and minorities of all kinds, the show features the work of 20 photographers from the 1950s to the present day.
Another Kind of Life follows the lives of individuals and communities operating on the fringes of society from America to India, Chile to Nigeria. The exhibition reflects a more diverse, complex view of the world, as captured and recorded by photographers. Driven by personal and political motivations, many of the photographers sought to provide an authentic representation of the disenfranchised communities with whom they spent months, years or even decades with, often conspiring with them to construct their own identity through the camera lens.
Featuring communities of sexual experimenters, romantic rebels, outlaws, survivalists, the economically dispossessed and those who openly flout social convention, the works present the outsider as an agent of change. From street photography to portraiture, vernacular albums to documentary reportage, the show includes the Casa Susanna Collection, Paz Errazuriz, Pieter Hugo, Mary Ellen Mark and Dayanita Singh.
Image: From the series La Manzana de Adán (Adam's Apple), 1983, © Paz Errazuriz
Level 3, Barbican Centre, Silk Street, London, EC2Y 8DS

28th February 2018 – 27th May 2018
Swaps: Photographs from the David Hurn Collection
This exhibition celebrates the major gift of photographs from David Hurn's private collection and marks the opening of Amgueddfa Cymru's first gallery dedicated to photography.
Throughout his career as a documentary photographer and member of Magnum Photos, Hurn has been an avid collector of photography. Remarkably, he has amassed his private collection by swapping works with other photographers.
The collection comprises approximately 700 photographs by leading 20th and 21st century photographers such as Henri Cartier-Bresson, Eve Arnold, Sergio Larrain, Bill Brandt, Martine Franck, Bruce Davidson and Martin Parr, through to emerging photographers such as Bieke Depoorter, Clementine Schneidermann, and Newsha Tavakolian.
The exhibition presents a selection of works that reflect on Hurn's own career and influences, his eye for a good photograph and the friendships he has developed with photographers along the way.
Image: GB. England. New Brighton. From 'The Last Resort'. 1983-85. © Martin Parr/Magnum Photos
National Museum Cardiff, Cathays Park, Cardiff, CF10 3NP
30th September 2017–15th April 2018
Shutter Hub's Nicola Maskrey has had her Ophelia series selected for the Rebel Daughters exhibition, marking the 100th anniversary of the first votes for women, and launching a year-long programme of activity in partnership with Doncaster Museums. Just under 60 women artists based locally, nationally and internationally have been selected to show work that celebrates the passions and interests of women artists today.
Maskrey's series is an exploration of the story of Shakespeare's Ophelia, made in response to studying previous artistic interpretations of the text.
Combining underwater digital photography with alternative printing methods, this series studies the destruction and turmoil that lies beneath the romanticism and serenity suggested in traditional representations of her fate, both in image and process.
Image: Ophelia #1 – Polaroid emulsion lift © Nicola Jayne Maskrey
The Point, 16 South Parade, Doncaster, DN1 2DR
18th January 2018 – 7th April 2018
Miho Kajioka: Unfinished Spaces
Miho Kajioka (b.1973, Okayama, Japan) is a fine art photographer based in Kyoto. Her ethereal, minimalist work draws on the Japanese tradition of "wabi-sabi" – the appreciation of beauty in imperfection and transience, and the Zen/Taoist belief that the essence (true nature) of an object exists rather in the empty space inside and around it.
Kajioka originally studied art in Canada and the US, before returning to Japan in the late 90s where she worked as a journalist for over a decade. It was whilst reporting from the coastal city of Kamaishi, devastated by the 2011 earthquake and tsunami, that Kajioka was struck by the unexpected sight of roses blooming besides a blasted building. The contrast of such beauty and grace in the face of mass destruction was something she recognised would be impossible, even futile, to try and convey through mainstream journalism and this recognition led her back to art as a way of expressing a different kind of truth.
"What I want to introduce people to is not what we can see or even put into words, but rather something invisible and in-between."
Her photographic work grew out of a drawing practice, echoing photography's literal etymology as a way of drawing with light. She still finds the process of watching images appear from the developing bath magical, in tune with her philosophy of honouring the imperfection as well as the innate essence of things. The empty spaces in her carefully exposed, toned and hand-finished silver gelatin prints are as important as the subjects that emerge from the delicate surfaces. Her aesthetic reveals the prevailing paradoxes between the factual and the unknown, the visible and the invisible, evoking a particular style of melancholic beauty and inviting the viewer to complete the picture through their own mind's eye view.
Image: BK0045 © Miho Kajioka
The Photographer's Gallery, 16 – 18 Ramillies Street, London, W1F 7LW
23rd February 2018 – 14th April 2018
Victorian Giants: The Birth of Art Photography
This major exhibition is the first to examine the relationship between four ground-breaking Victorian artists: Julia Margaret Cameron (1815–79), Lewis Carroll (1832–98), Lady Clementina Hawarden (1822–65) and Oscar Rejlander (1813–75). Drawn from public and private collections internationally, the exhibition features some of the most breath-taking images in photographic history. Influenced by historical painting and frequently associated with the Pre-Raphaelite Brotherhood, the four artists formed a bridge between the art of the past and the art of the future, standing as true giants in Victorian photography.
Featuring striking portraits of sitters such as Charles Darwin, Alice Liddell, Dante Gabriel Rossetti, Thomas Carlyle, George Frederick Watts, Ellen Terry and Alfred, Lord Tennyson.
Image: The Evening Sun (Iphigenia) (detail) by Oscar Rejlander c.1860 © Gernsheim Collection, Harry Ransom Center, The University of Texas at Austin
National Portrait Gallery, St Martin's Place, London, WC2H 0HE
1st March 2018 – 20th May 2018
The Other Half – The Activist Photography of Jacob Riis
In 1870, the Danish immigrant Jacob Riis (1849-1914) arrived in New York City, aged twenty-one and penniless. This background stimulated his concern for the poor living conditions of inhabitants of the city's Lower East Side. In time, his concern propelled him to become an important journalist and social reformer. In addition, he is now viewed as one of the founders of documentary photography.
Riis used the camera as a means to help improve the living conditions of the city's destitute. He was eager to apply the latest developments in the still young medium of photography and used his photographs as powerful illustrations for his lectures, articles, and books. During his lectures – a kind of 'TEDX-talk' avant la lettre- Riis would project the images using a magic lantern (a stereopticon). This made his lectures very popular, and by 1900 Riis had become a celebrated writer, journalist and public speaker who knew how to move influential friends such as Theodore Roosevelt (the later president of the United States), Andrew Carnegie and Booker T. Washington to implement reforms.
However successful Riis's social efforts were, his photographs did not attract much attention for themselves. The technology to reprint them in books was still far from perfect, and the photograph was often used as the basis for drawings. The interest in his photographs started to grow after the Second World War, and it was only in 1946 – many years after his death – that the Museum of the City of New York organised the first major exhibition of his images.
The Other Half – The Activist Photography of Jacob Riis comprises vintage photographs by Riis and his contemporaries, prints from 1946 and more recent prints from 1994. Visitors can also see and listen to a reconstruction of one of his lectures. The exhibition includes a magic lantern as used by Riis during his lectures and a number of personal belongings such as his notebook.
Image: Minding the Baby,' 1892 © Jacob Riis, Museum of the City of New York
Foam Fotografiemuseum, Keizersgracht 609, Amsterdam, Netherlands
16th February 2018 – 15th April 2018
The retrospective devoted to the American photographer Susan Meiselas (b. 1948, Baltimore) brings together a selection of works from the 1970s to the present day.
A member of Magnum Photos since 1976, Susan Meiselas questions documentary practice. She became known through her work in conflict zones of Central America in the 1970s and 1980s in particular due to the strength of her colour photographs. Covering many subjects and countries, from war to human rights issues and from cultural identity to the sex industry, Meiselas uses photography, film, video and sometimes archive material, as she relentlessly explores and develops narratives integrating the participation of her subjects in her works. The exhibition highlights Susan Meiselas' unique personal as well as geopolitical approach, showing how she moves through time and conflict and how she constantly questions the photographic process and her role as witness.
Image: Série Carnival Strippers, 1972-1975 © Susan Meiselas/Magnum Photos
Galerie nationale du Jeu de Paume, 1 Place de la Concorde, 75008 Paris, France
6th February 2018 -20th May 2018