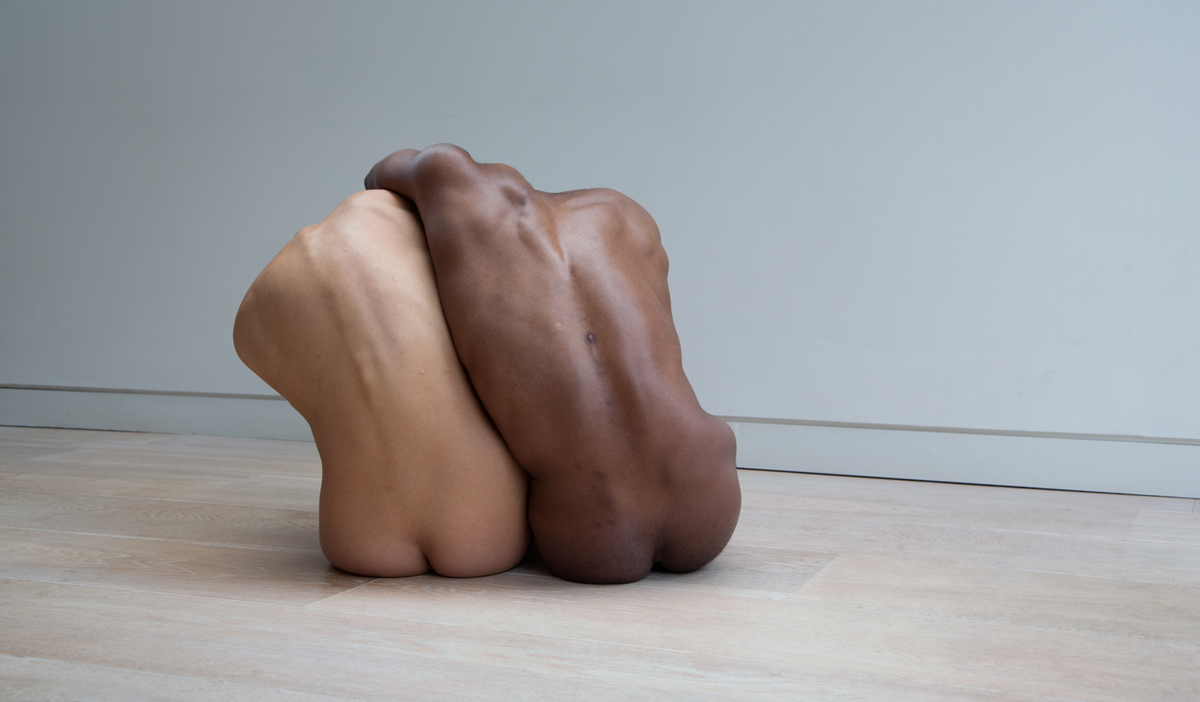 L A Noble Gallery in partnership with Photofusion, are delighted to announce the forthcoming exhibition  Form & Function with works by Chloe Rosser.
Subverting the idea of the nude Chloe Rosser's photographs intrigue, entice, confuse and repel. Rosser's sculptural figures embrace the surreal whilst retaining an absolute reality. Knowingly unnerving, her models contort themselves into fleshy geological 'forms'.
Rosser's work speaks of the human condition and our increasing alienation from our own bodies. In these photographs, what should be intimately familiar is transformed into an unfamiliar sculpture. Photographed in this contorted fashion, the body becomes almost inhuman; it is a mindless mass of flesh, a growth. Although the figures are abstract they still retain many human qualities; foetal like poses, flecks of freckles and the subtle arc of the spine. The forms photographed are a stark contrast to our society's concept of an 'ideal body'. While their peculiarity and soft lighting intrigue us, a sense of the cadaver repels us.
The naked body has been a major focus throughout the history of art – with the male gaze dominating the field. Our acceptance of misogynistic and sexualised bodies in art, media and life contort the reality of what it is to be human and comfortable with our own skin. Highly debated and wrapped in controversy, our relationship with the human body is arguably now more complicated and widely discussed than ever before.
Photofusion, 17A Electric Ln, Brixton, London SW9 8LA 
10th  May 2018 – 18th  June 2018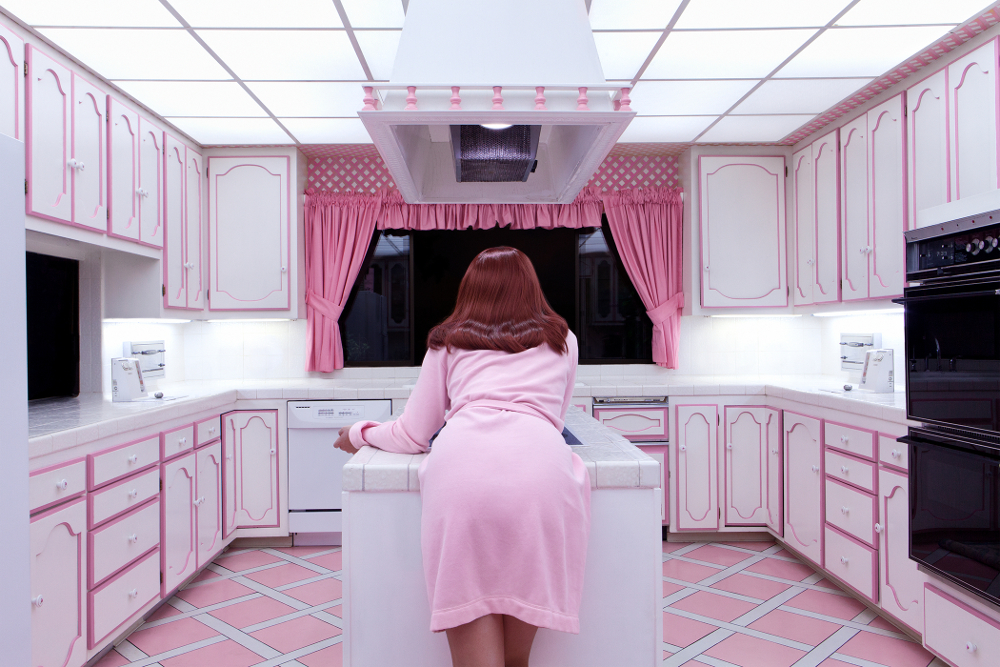 'What To Do With A Million Years.'
Juno Calypso
TJ Boulting are proud to present the second solo show at the gallery by Juno Calypso. Known for her iconic photographic series of self-portraits in 'The Honeymoon Suite', for this new body of work Calypso discovered a surreal and unique location – an underground house in Nevada, USA.
Built by Avon cosmetics founder Gerry Anderson in the 1960s, with the advent of the cold war he had decided to take the premise of a bunker in the back yard one stage further. The multimillionaire moved 26 feet underground into a 16,000 square foot luxury space, designed to withstand virtually any disaster and protect from almost any intruder. Above ground the original entrance is a cave-like hole but down below, as befits a Vegas home, there is an all-pink bedroom, crystal and gold fixtures in the bathrooms, a swimming pool, waterfall and hot tub, and hand-painted murals of outdoor scenery on the perimeter of the home and garden. As the interior had never been exposed to sunlight or outside air it was perfectly preserved, with no dust or sun damage on the furniture and wallpaper, and today the home remains in tact and as Henderson and his wife Mary built it. A computerised lighting system simulates daytime, sunset, dusk and night, complete with stars and the moon.
After Gerry died Mary moved to a newly built house directly above ground but died herself shortly after. The underground house is now unoccupied but kept in immaculate condition by a caretaker living alone above ground.
As Calypso began her stay, sleeping and working alone downstairs, she immersed herself in the surroundings of the underground house and staged self-portraits in the different rooms. Whilst there Juno became aware that the current owners were in fact a mystery group with an enthusiasm for immortality. A stash of pamphlets found in the house detailing the latest innovations in cryonics from the 1960s to the present day served as inspiration, adding to the spirit of preservation running through the location's past and present. What began as a house built off the fortune of a well-known cosmetics company, incorporating the pursuit of beauty and preservation of the living, had since taken a disturbing detour to become an eerie trophy of those who were more concerned with eternal life.
For this exhibition Calypso has produced an accompanying limited edition booklet drawing on the found printed materials alongside her own photographs. That this house even exists is a far-fetched fantasy that even Calypso could not have possibly imagined, proving once again that truth is indeed eternally stranger than fiction.
Image © Juno Calypso
TJ Boulting, 59 Riding House Street, London, W1W 7EG
15th May 2018 – 23rd June 2018.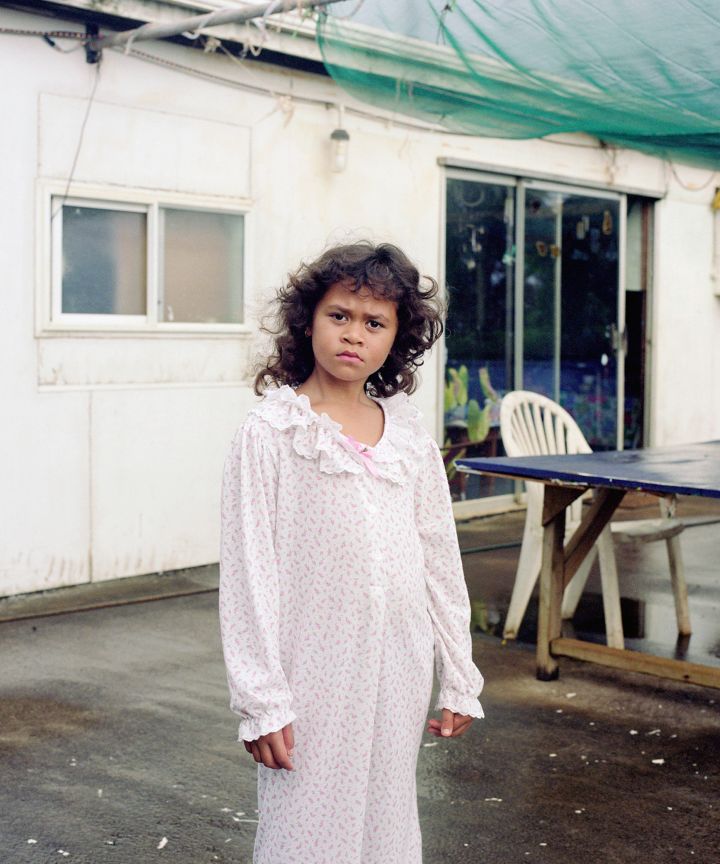 Big Fence / Pitcairn Island
Rhiannon Adam
Francesca Maffeo Gallery is pleased to present 'Big Fence / Pitcairn Island ' by Rhiannon Adam, the first exhibition from our 'Season of Women Photographers'.
Adam's journey and documentation of her stay on the remote island of Pitcairn is a powerful and unsettling exploration of a 'Paradise Lost'. 'Big Fence / Pitcairn Island' is the first in-depth photographic project to take place on the island.
In 2015, Adam travelled to the remote island community of Pitcairn, the last British overseas territory in the South Pacific. The island measures just two miles by one mile, today just one child and 42 islanders remain, descendants from the Mutiny on the Bounty. In 2004, the island's romantic image was tarnished by a string of high profile sexual abuse trials; as a result, islanders are particularly reticent about accepting outsiders. With her trip duration dictated by the quarterly supply vessel, there would be no way off for three arduous months.
Pitcairn the paradise – Mutiny on the Bounty Island, the Anglo-Tahitian idyll, the Hollywood adaptations that followed. But there was another, darker, side to the island. Secrets that had ripped the community apart, convictions that had shocked the world. Spurred by testimony from one brave Pitcairn girl, a total of 8 living Pitcairn men were convicted of sexual crimes against young girls, one of whom is the island's current mayor, Shawn Christian. Many of the men still apparently indignant, the abused girls now wives.
On Pitcairn, every problem is amplified, and there is no respite – honesty is eclipsed by need. Here women face their darkest moments daily, relying on their abusers – to break ranks is to ensure the community's downfall. Here, no experience is individual. In this most isolated of places, claustrophobia prevails. A complex and tense environment where loneliness and secrecy thrive. Relationships are fractured, locations bare scars. Every corner of this island is marred. Though the mutineers came for escape, Pitcairn provides no such comfort, its rocky shores and open ocean acting as a prison wall for all within.
"Unwanted sexual advances and public showdowns peppered my stay and almost everyone was photographed in private, inside, away from judging eyes – a covert operation. With each subject I had just one opportunity – many taking months of coercion. As a result, those absent in the project (mainly the women themselves) perhaps tell a more potent story than those who are included." (Rhiannon Adam)
Expired Polaroid film is used to capture the fragility of the place – its instability echoing the scarred underbelly of the island, its dreamlike quality capturing the whimsy of the legend. Images of empty rooms, rock fissures, objects, audio snippets, relics and damaged found photographs of long departed islanders sit alongside formal portraits, intermingling to capture the spirit and struggle of this tiny island nation as it sits on the brink of implosion.
Image: The Loneliest Child in the World © Rhiannon Adam
The Francesca Maffeo Gallery, No 284 Leigh Road Leigh on Sea, Essex, SS9 1BW
21st April 2018 – 9th June 2018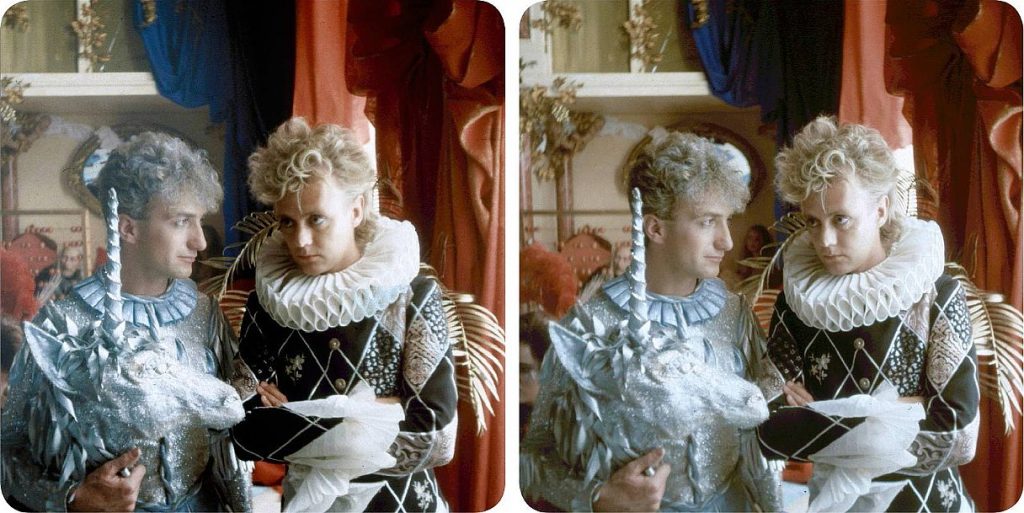 Queen in 3D Exhibition
Brian May
Lomography are very excited to announce the new exhibition of stereoscopic photos taken by Brian May whilst touring with Queen. From an early age Brian would travel with a stereo (3-D) camera in hand, so on Queen tours and during recordings he was able to capture rare behind-the-scenes moments of one of the world's greatest rock bands. Decades later these were shared for the first time in Brian's photographic autobiography, Queen in 3-D, published by his publishing house, The London Stereoscopic Company. Some of the photographs had not even been fully processed until the book was in the making. Initially thought by Brian to be a quick job, this project turned into a labour of love for May and his team which spanned three years. Each time May thought all the photos had been discovered, more 3-D photos were found in forgotten hiding places, revealing more of the band's story.
Image: © Brian May
Lomography Gallery Store Soho, 3 Newburgh Street, London W1F 7RE
3rd May 2018 – 13th June 2018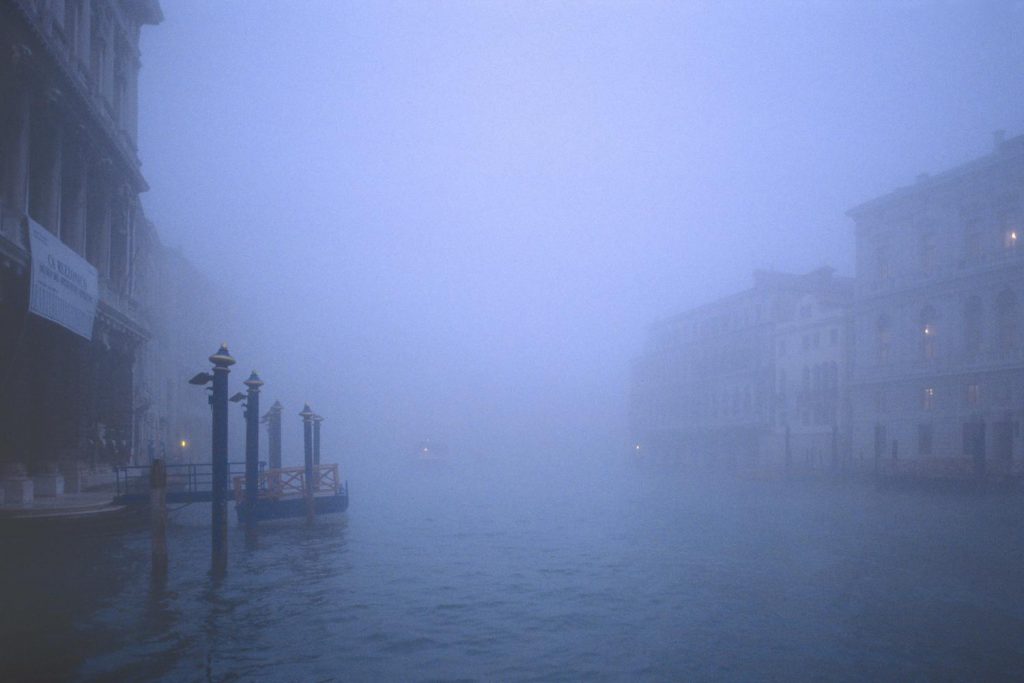 The Mind's Eye
The Photographs of Derek Parfit
narrative projects is pleased to present The Mind's Eye: The Photographs of Derek Parfit, an archive of images captured by one of the most unusual and influential philosophers of our time. This exhibition, the first ever of Parfit's photographs, will examine his idiosyncratic method and practice, introducing a previously unpublished oeuvre that complicates the legacy of this century's most original moral philosopher.
Image: Untitled (Grand Canal, Venice) © Derek Parfit
narrative projects, 110 New Cavendish Street, London, Fitzrovia W1W 6XR
11th  May 2018 – 30th  June 2018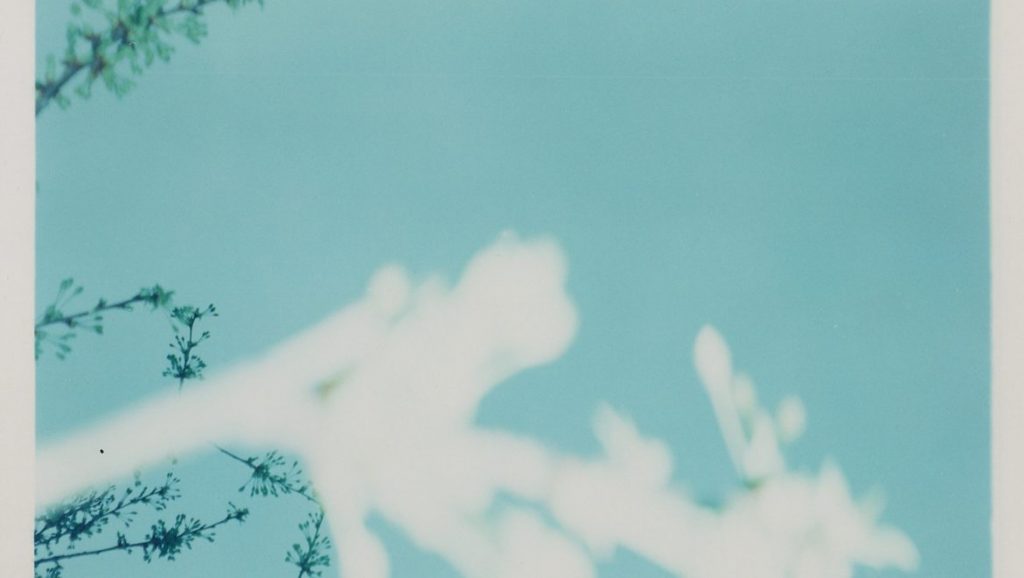 The Free Space Project presents Flux, an exhibition showing the work of 4 artists whose unique practices express notions of transitions, using the body, emotions and personal experiences to shape their works.
Debbie Harman presents work from her project Dialect of the Deep, documenting the experience of caring for her mother whilst she underwent treatment for throat cancer.
In her project I Am the Door Diane Bielik explores non-ending cycles of life in a series of images of blossom in its varying states shot over a number of years.
Liz Orton's Digital Insides explores the relationship between medical imaging and the body, using radiology software to make visible the body's skin, traces of the patient's clothing, and signs of the imaging machine itself.
Highlighting her collaborative practice, Jessie Edwards Thomas shares work from her project with Kevin Bright, a man currently housed in support accommodation for those with complex needs. Together they create works in response to each other, passing images between them in an act of reinterpretation and reflection.
Image: © Diane Bielik
Free Space Project, Kentish Town Health Centre, 2 Bartholomew Road, London, NW5 2BX
9th March 2018 — 15th June 2018
Scotland's Far North
Chick Chalmers; Tom Kidd; Glyn Satterley
Street Level Photoworks touring exhibition 'Scotland's Far North' travels to Thurso Art Gallery.
These three bodies of work from the late 1970s provide a unique insight into Scotland's remote landscape, islands and people. Glyn Satterley's series presents a document of life in the neglected area of Caithness and Sutherland at a time when the myth was much banded about that the oil industry brought wealth and prosperity to the whole of Scotland. Chick Chalmers ʻOrkney' project and Tom Kidd's ʻShetland' both present fascinating photographic insights of these island archipelago's at a time of change with the effects of the oil industry on the traditional life of these cultures. Candid and sympathetic, the images show that Scotland's Far North managed to take its place in the modern world without losing too many of the customs and traditions which give these places their special character and ethos.
Image: 'Bringing home the bacon', Ben Armine, Sutherland.' © Glyn Satterley
Thurso Art Gallery, Davidson's Lane, Thurso, KW14 7AF
2nd  May 2018 – 14th  October 2018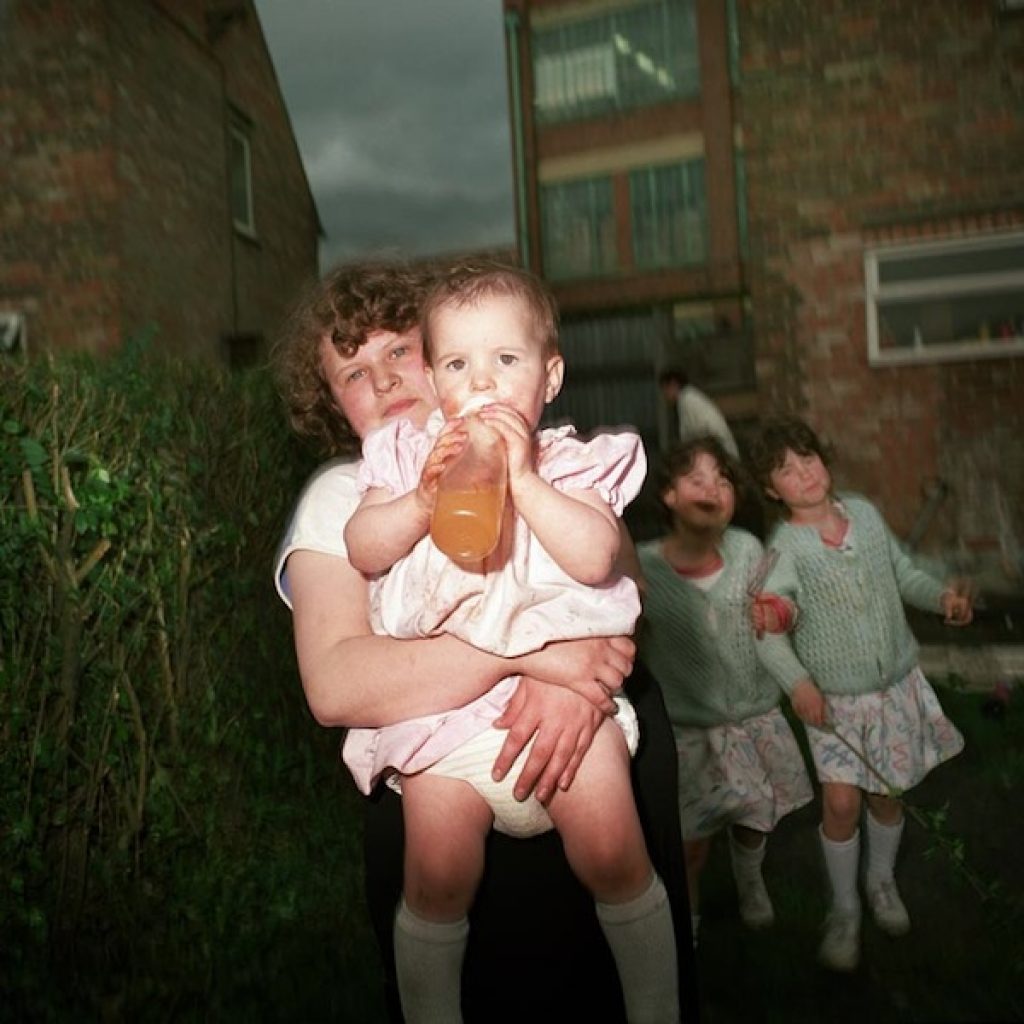 Lisa and John tells the story of two subjects from David Moore's 1980's series 'Pictures From the Real World', documenting working class communities in the photographers home-town of Derby. This exhibition re-presents the project in a new form, through an immersive installation of photographs, research material, 3D maquettes, audio-visual works and a public theatre performance entitled 'The Lisa and John Slideshow' at the MAC Theatre on Thursday 10th May.
Collaborating with Lisa and John, Moore's 'archive intervention' invites the original subjects to interact with the photographs taken in their family home between 1987 and 1988, making their own selections and discussing memories, family, and being photographed.
Image: © David Moore
Belfast Exposed Photography, The Exchange Place, 23 Donegall Street, Belfast BT1 2FF
4th May 2018 – 16th June 2018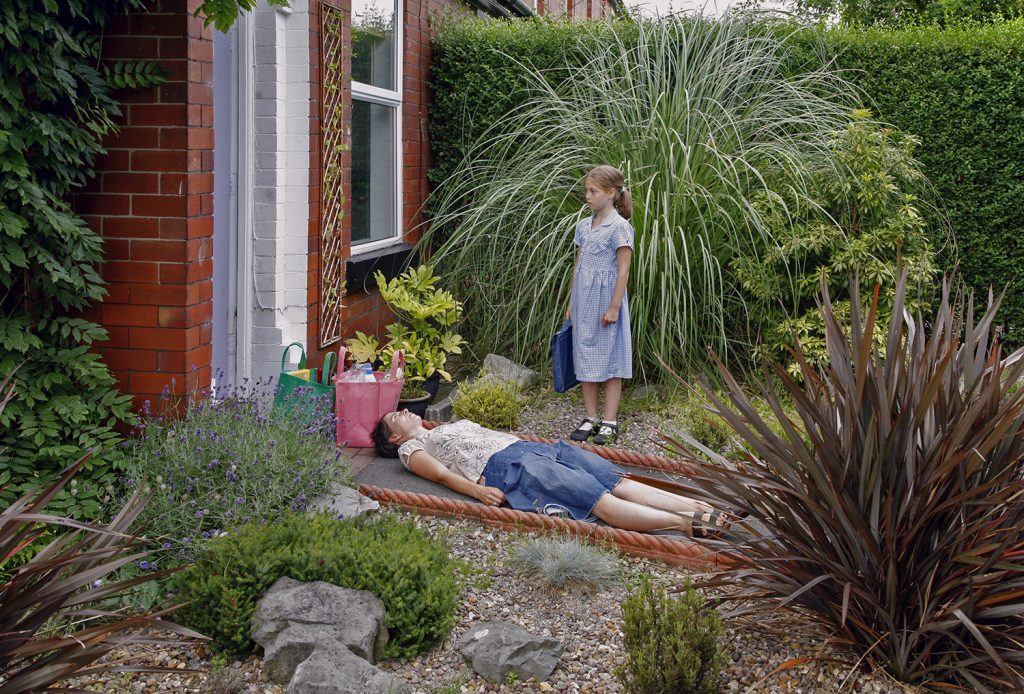 And… coming soon (in July, but we wanted to share it with you now!)…
Shutter Hub take Because We Can to Festival Pil'ours Festival international de la photographie pour les femmes photographes professionnels, in Saint Gilles Croix de Vie, France.
Festival Pil'ours is an annual international festival of photography showcasing the work of ten female-identifying photographers from around the world. This year, a first for the festival (and for us!) Shutter Hub have been invited to bring a group exhibition of female-identifying photoraphers work to the festival.
The outdoor exhibition sites are spread throughout the Pays de St Gilles Croix de Vie and attract thousands of visitors day and night throughout the festival. Organised tours, conferences with photographers and of course, the private view, make the exhibition accessible to all.
100 years ago the Representation of the People Act gave some women in Britain the right to vote.  Throughout the years we've all benefited enormously from the revolutionary courage of those women. The inspiring and tireless work of many women and men, for women's rights continues to this day.
At Shutter Hub we welcome the opportunity to reflect on this and to take pause to celebrate contemporary work by female photographers today.
Festival Pil'ours, Festival international de la photographie pour les femmes photographes professionnels, in Saint Gilles Croix de Vie, France
8th July 2018 – 31st August 2018