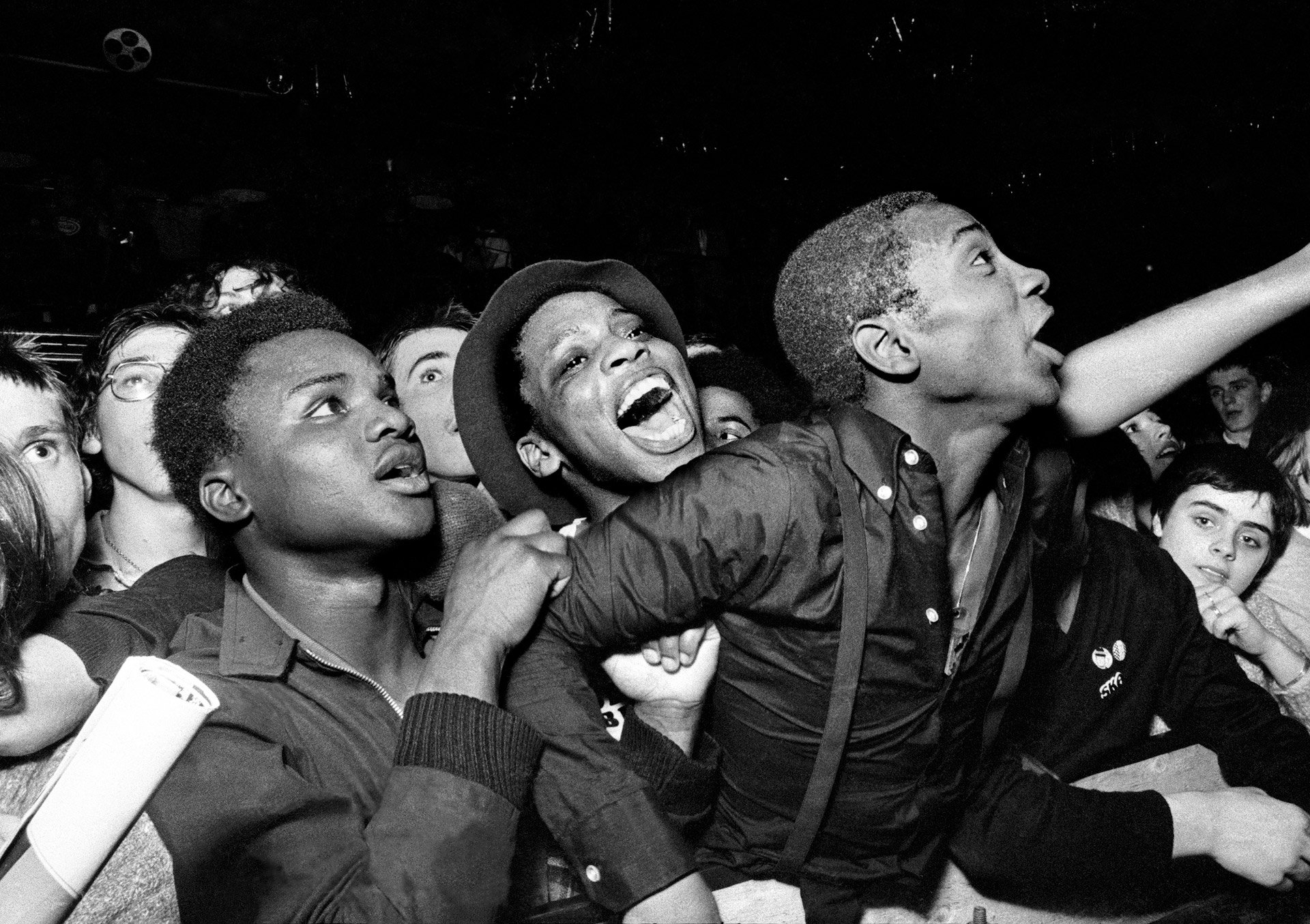 Rock Against Racism – Photographs by Syd Shelton
Syd Shelton's photographs document the volatility of a country divided across race, class and gender. They expose the ferocity of cultural difference being hammered out on Britain's streets through the late 1970s, at a time when racist skinheads danced to Jamaican ska, punks embraced reggae and black kids reached out to punk. Shelton photographed performers such as The Clash, Elvis Costello, Misty in Roots, Tom Robinson, Au Pairs and The Specials as well as the audiences at RAR gigs and carnivals across England. He captured the history-making RAR Carnival 1 at Victoria Park, London in 1978, and demonstrations such as the Anti National Front Demonstration in Lewisham in 1977. Shelton also took contextual social and cultural images that informed the politics of the movement across England and Ireland.
As Shelton says: 'In collaboration with UK reggae and punk bands, RAR members took on the orthodoxy through five carnivals and some 500 gigs throughout Britain. In those five years, the National Front went from a serious electoral threat into political oblivion.'
Rock Against Racism revisits the energy of RAR, the creative entanglement of black and white musicians, designers, writers, actors, performers and supporters who produced effective counter-narratives to whiteness as superior and blackness as alienated. Shelton's photographs remind us that RAR was a particular treatise on belonging in Britain.
RAR did not have an official photographer and Shelton has produced the largest collection of images on the movement. He says of the period: 'Photography for me has always been an autobiographical tool, a sort of staccato visual diary….I also used my photography during that period as a graphic argument, enabling me to be a subjective witness of the period which could, hopefully, contribute to social change ….'
An Autograph ABP touring exhibition. Curated by Mark Sealy and Carol Tulloch. Syd Shelton – Rock Against Racism is supported using public funding by Arts Council England.
Image: Specials fans, Potternewton Park, Leeds 1981. © Syd Shelton. Courtesy of the artist and Autograph ABP
Street Level Photoworks

Trongate 103, Glasgow, G1 5HD
11 February – 09 April 2017
North: Fashion, Photography, Identity
North explores the influence of the North of England on fashion and visual culture. It considers why the region has proved a constant inspiration to designers, artists and image- makers, taking into account the rich cultural history of the region. The show brings together collective visions of the North, unpicking the tropes and themes that appear regularly in design and media.
Featured artists are Alasdair McLellan, Glen Luchford, Corinne Day, David Sims, Jamie Hawkesworth, Jason Evans, Alice Hawkins, Mark Leckey, Jeremy Deller, Raf Simons, Paul Smith, Virgil Abloh, New Power Studio, adidas, Elaine Constantine, Christopher Shannon, Maxwell Sterling, Simon Foxton, Stephen Jones, Gareth Pugh, Nik Hartley, Claire Barrow, Humphrey Spender, Thom Murphy, Ewen Spencer, Brett Dee, Humphrey Jennings, Dave Turner, Rob Williams, David Ellison, Greg Leach, John Davies, John Stoddart, Martin Roberts, Michael Robinson, Michelle Sank, Paul O'Donnell, Stephen McCoy, Tom Wood.
The exhibition is co-curated by Lou Stoppard and Adam Murray and kindly supported by adidas.
Image: © Catwalking.com. Raf Simons menswear Autumn Winter 2003. Paris Menswear Fashion Week.
Open Eye Gallery

19 Mann Island, Liverpool, L3 1BP
6 January – 16 March 2017
Terrains of the Body: Photography from the National Museum of Women in the Arts
Drawn from the National Museum of Women in the Arts (Washington, U.S.), this collection display showcases photography and video work by seventeen contemporary artists from around the world.
By turning their camera to women, including themselves, these artists embrace the female body as a vital medium for storytelling, expressing identity and reflecting individual and collective experience.
Featuring work by: Marina Abramović, Rineke Dijkstra, Anna Gaskell, Nan Goldin, Charlotte Gyllenhammar, Candida Höfer, Icelandic Love Corporation, Mwangi Hutter, Kirsten Justesen, Justine Kurland, Nikki S. Lee, Hellen van Meene, Shirin Neshat, Daniela Rossell, Eve Sussman and the Rufus Corporation, Janaina Tschäpe and Adriana Varejão.
Image: © Hellen van Meene, Untitled (79), (2000), detail,National Museum of Women in the Arts, Gift of Heather and Tony Podesta Collection, Washington, D.C. © Hellen van Meene and Yancey Richardson Gallery. Photo: Lee Stalsworth.
Whitechapel Gallery

77-82 Whitechapel High St, London, E1 7QX
18 January – 16 April 2017
"I see photographs as documents of people, recorded in the context of their environment and their time. The interpretation of my subjects, or my part of being creative, lies in selecting the context, the environment and the moment in time."
Anne Purkiss is a photographer whose portfolio includes portraits of artists, scientists and public figures as well as photographs of artwork. This exhibition presents a collection of Purkiss' portrait photographs of sculptors, all of whom have exhibited at Yorkshire Sculpture Park (YSP) over the last 40 years.
The exhibition documents artists at various stages in their careers, covering three decades, through photographs borne out of Purkiss' personal interest in sculptors as a subject and those commissioned as part of her regular freelance work for press and government agencies, museums and galleries.
The artist's most recent photograph – previously unseen – shows Tony Cragg in his studio in Wuppertal, Germany, preparing for his major YSP exhibition, which also opens on 4 March 2017. Other new works feature Sophie Ryder during the installation of her exhibition in Salisbury Cathedral; and Martin Creed outside the entrance to the Barbican in London's Silk Street, near his office.
Andy Goldsworthy, whose site-specific installations at YSP include Hanging Trees and Shadow Stone Fold, is featured in a photograph taken on Cocking Down, West Sussex, in 2002 during the inaugural walk of his Chalk Stones Trail. It was assumed that the stones would last approximately two years, and 14 years later the weathered stones still exist. Fellow land artist, David Nash – whose wooden, stone and charcoal works are also shown in the open air at YSP – is seen chainsawing a large block of wood, with the scenic backdrop of the rugged Blaenau Ffestiniog landscape.
Earlier works show Dame Elisabeth Frink in her Dorset studio in 1990, prior to her 60th birthday, sat alongside the sculpture Seated Figure II; and Lynn Chadwick in the garden of his home in Lypiatt Park, Gloucestershire, in September 1995. Dhruva Mistry and Trupti Patel were photographed in their studio in Essex, in October 1991, at the time of Mistry's election as a member of the Royal Academy of Arts.
In YSP's 40th year, the exhibition offers the chance to reflect on the wealth of talent that has graced the Park's rolling 500-acre landscape, from young Visiting Artists such as David Murphy to sculptural masters like Sir Anthony Caro.
The exhibition coincides with the release of Purkiss' new book Sculptors: 1986–2016, which features portraits of more than 70 British sculptors, including those exhibited in the YSP show. A photograph of YSP's Founding and Executive Director Peter Murray CBE, who has written the foreword for the publication, is also featured.
Image: Lynn Chadwick 1995 © Anne Purkiss
Yorkshire Sculpture Park

Upper Space, YSP Centre, West Bretton, Wakefield, WF4 4LG
4 March – 4 June 2017
An Incomplete Dictionary of Show Birds – Luke Stephenson
Britain and its national psyche are at the core of London based photographer Luke Stephenson's work. For over a decade he has been photographing subjects that, for him, epitomize British eccentricity and culture, including puppets, the iconic '99' ice cream and the World Beard and Moustache Championships.
In 2009 Stephenson discovered the peculiar and insular world of show bird competitions and began to immerse himself in the subculture of 'bird fancying'. He has spent the past seven years tracking down and gaining access to ever more exotic species to photograph, inadvertently becoming an avid collector of these prized birds himself.
This exhibition showcases Stephenson's newest works in the series An Incomplete Dictionary of Show Birds. By combining his unique style of photography withthe formal language of studio portraiture, the artist lends his feathered subjects an affectionate and often human presence.
Luke Stephenson (born in 1983, Darlington, England) lives and works in London. Since graduating in 2005 and winning the Jerwood Photography Prize the same year, Stephenson has been working as a freelance photographer focusing on eccentric British hobbies and exposing fascinating "archaeological layers of English culture" hidden from the mainstream.
His work has been published in a variety of publications including The New York Times Magazine, The Guardian, Dazed & Confused, Foam, Art Review and Wallpaper*.
Image: Purple Honeycreeper, 2016 © Luke Stephenson
The Photographers' Gallery

16 – 18 Ramillies St, London W1F 7LW
19 Jan – 19 Feb 2017
Photographer Gideon Mendel has created a powerful installation using objects he gathered during visits to the 'Jungle' refugee camp in Calais.
By focusing on items such as toothbrushes, playing cards, worn-out trainers, teargas canisters, and children's dolls, Mendel conjures alternative portraits of the 'Jungle' residents that also stand in for the plight of displaced people everywhere.
The title of the project Dzhangal refers to a Pashto word meaning 'This is the forest', the origin of the contentious term 'Jungle'.
Mendel is noted for his long-term socially engaged projects. He initially went to Calais to teach photography to refugees part of a collaborative documentary project. He discovered that many refugees were hostile towards the camera and sceptical that it would ameliorate their situation. Many feared that being identified could undermine their asylum claims and lead to deportation.
Mendel's response was to turn his attention to lost objects on the ground, collecting them and trying to understand the patterns that emerged. Through the display of discarded objects, Mendel highlights the residents' humanity. Some objects evoke the daily violence many experienced, some reflect the banality and domesticity of lives there – including the plight of women and children – while artefacts from a deeper archaeological layer evidence the era before the camp existed.
This exhibition combines a series of large still life photographs of these objects with installations of found objects. Mendel regards his Dzhangal project as a way to create order from the disorder. It is an attempt to make sense of the complex relationships, politics, and situations found on the ground by restructuring the objects within the frameworks of art and photography. In these artefacts with all their ingrained grit and ashes, one senses the refugees' struggle to live ordinary lives under extraordinary circumstances, while the stench of smoke evokes the fire that turned to ashes their hopes for better lives in England.
During the concluding week of the exhibition, Mendel's book, DZHANGAL will be released. Published by Gost Books, it will include 80 pages of images, along with texts by refugees, writer and broadcaster Paul Mason, and art historian Dominique Malaquais.
The Jungle was the final incarnation of temporary refugee camps that sprang up around the Port of Calais in the past eighteen years. Initially, residents in the camps numbered in the hundreds— with an estimated 800 refugees in 2009. Since then, this number rapidly increased because of turmoil in the Middle East and the Horn of Africa. In September 2014, there were approximately 1,300 refugees. By November 2015 numbers had risen to 6,000. There were up to 9,000 refugees residing in the Jungle in October 2016, when the camp was demolished.
Image: Fabric doll with vinyl face collected 21 May 2016 © Gideon Mendel
Autograph ABP

Rivington Place, London, EC2A 3BA
6 January – 11 February 2017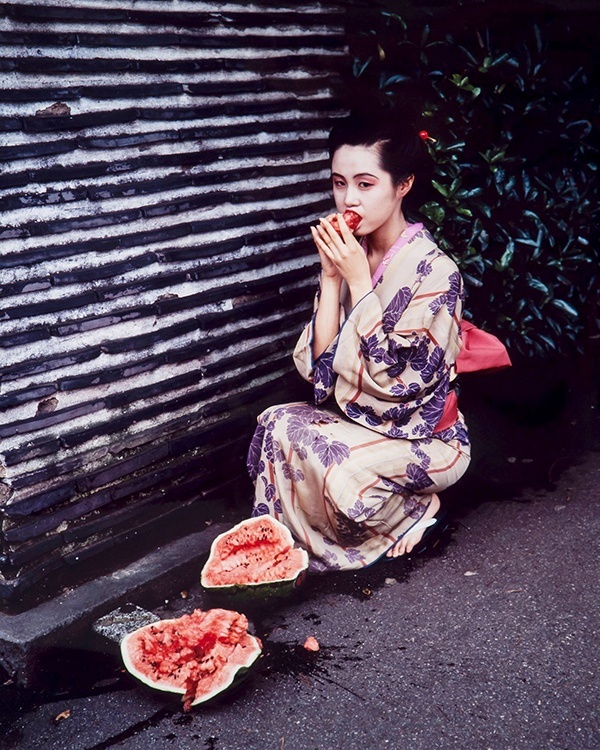 Masters of Japanese Photography
This exhibition explores the work of some of the most prominent Japanese photographers of the second half of the twentieth century, including Nobuyoshi Araki, Eikoh Hosoe and Kikuji Kawada.
Witnesses to a generation that grew up in the aftermath of the Second World War, their work addresses both their personal experiences and the evolution of Japanese society. From Araki's exuberant flowers to Hosoe's lyrical portraits, these fascinating images encapsulate the natural beauty and social complexity of Japan.
The exhibition will feature around 60 works drawn from artists' studios as well as from private collections. It will be the first exhibition on contemporary Japanese photography at the Sainsbury Centre, offering the unique opportunity to engage with a remarkable generation of photographers who transformed the genre.
Image: Colourscapes, 1991 © Nobuyoshi Araki
Sainsbury Centre for Visual Arts

UEA, Norwich NR4 7TJ, UK
Legacy: Photographs by Vanessa Bell and Patti Smith
A special display bringing together photographs by Vanessa Bell and the American writer, artist and musician, Patti Smith (b. 1946).
Smith has long been drawn to Bell's Charleston farmhouse in Sussex. Her black and white Polaroid photographs sensitively capture the lingering remains of the life Bell lead there – in particular with her life companion, Duncan Grant.
Bell's own photograph albums include pictures from her childhood summers in St Ives and of her own young family and the circle of leading intellectuals and artists that surrounded her throughout her life.
While Smith's photographs depict places abandoned to the forces of time, Bell's teem with a host of characters, captured by her sharp eye and framed by her keen compositional instincts. Seen together, the photographs offer two different artistic visions which both capture a lasting Bloomsbury legacy.
Image: Patti Smith, Paint Brushes, Duncan Grant's studio, 2008, Gelatin silver print, edition of 10, © Patti Smith. Courtesy the artist and Robert Miller Gallery
Dulwich Picture Gallery

Gallery Road, London, SE21 7AD
8 February – 4 June 2017


Got an exhibition you want to share? Drop us an email with a paragraph about the exhibition, web link, details and an image.