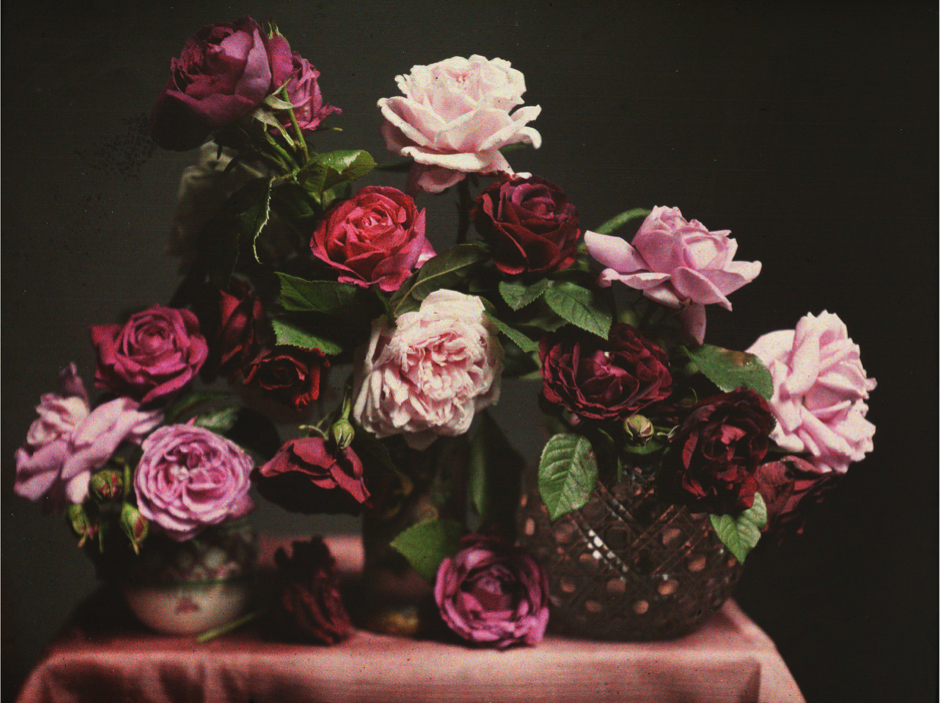 Beyond the Battlefields

Käthe Buchler's Photographs of Germany in the Great War
Beyond the Battlefields presents a unique series of images by photographer Käthe Buchler (1876-1930) made in Germany before, during and after World War One. Buchler's exquisitely posed portraits and landscapes are the vision of a respectable, bourgeois wife and mother, a pillar of her community with an exceptional (and little known) photographic vision.
Through different picture cycles – some using early colour film – Buchler examines the care of orphaned children and wounded troops, Germans at work and at leisure – including a fascinating series made during first two years of the war entitled 'Women in Men's Professions' offering us a fascinating window on the preoccupations of ordinary Germans, living and working hundreds of miles away from the battlefields.
Beyond the Battlefields is a touring exhibition co-organised by Departure Lounge, UHGalleries, Museum Für Photographie, Braunschweig, and the AHRC-funded First World War engagement centres at the University of Birmingham and the University of Hertfordshire.
Image: Käthe Buchler, Roses, Still Life, c.1920 © Estate of Käthe Buchler – Museum für Photographie Braunschweig/Deposit Stadtarchiv Braunschweig
Grosvenor Gallery, Manchester Metropolitan University, Manchester, M15 6BR

2nd February 2018 – 3 March 2018
&
University of Hertfordshire Galleries, College Lane, Hatfield, AL10 9AB

21st March 2018 – 5th May 2018
An exhibition to celebrate the 90th birthday of photographer Elliott Erwit, will open at Beetles + Huxley in January 2018. The exhibition includes over 50 photographs surveying Erwitt's career, ranging from photographs of New York in the late 1940s, to portraits of well-known figures and rare vintage prints from across Erwitt's career.
Erwitt moved to New York aged just eighteen, where he became involved in the New York photography scene, meeting influential photographers, Edward Steichen, Robert Capa and Roy Stryker. The exhibition will include two early photographs taken in New York in this formative period, in which Erwitt's eye for composition is already evident. His first major project quickly followed in Pittsburgh in 1950, commissioned by the legendary Roy Stryker and three recently rediscovered works from this project, further demonstrating Erwitt's developing eye will also be on display.
In 1953, Robert Capa, founding member of Magnum Photos, invited Erwitt to join the ranks of the agency, and his career continued to go from strength to strength. Sensitively observed portraits of well-known figures such as Jack Kerouac, Arthur Miller, Grace Kelly, Marilyn Monroe, John F Kennedy, Salvatore Dali and Che Guevera amongst others, demonstrate Erwitt's versatility when displayed alongside landscapes encompassing cityscapes and the wide-open spaces of the American west. Known for his satirical humour and sharp wit, perhaps Erwitt's most-loved photographs are those featuring dogs and a selection of these, taken in London, Paris and New York will also be on display.
Image: Valencia, Spain, 1952 © Elliott Erwit
Beetles + Huxley, 3-5 Swallow Street, London, W1B 4DE
24th January 2018 – 17th February 2018
Shadows In Paradise

Marianna Rothen
The characters of Shadows in Paradise are portrayed by Rothen herself and by her models/muses/friends. The photographs were made in Rothen's home in upstate New York, shot both in 2015 when the house was in a decrepit, nearly abandoned state, and then in the summer of 2016 after obsessive renovations. Carlo McCormick writes in the book introduction:
"We know this place; it is the landscape of what has been lost and the broken ground upon which the forgotten grows…. It is not a destination but a sidetrack of indetermination, it is a borderline Rothen does not so much cross as trace like a caregiver's loving caress along the ridge of an accustomed scar. Marianna occupies these pictures like an unspoken kindness, the company and comfort we keep when we are alone and frightened of this world, and wherever she may be here, in the frame or behind the camera, she is never quite grounded or solid but hovering, ethereal and translucent, as much feeling as fact."
The photographs in Shadows in Paradise reference three films: Ingmar Bergman's Persona, Robert Altman's Three Women and David Lynch's Mulholland Drive. In Rothen's female-helmed dream world her characters find themselves and lose themselves. These images portray characters that debuted in Rothen's 2014 book 'Snow and Rose & Other Tales'. When we last saw Rothen's women they were dancing exuberantly in the nude, celebrating their male-free utopia. Now we see them struggling to stay connected to their idealized notions of self, coping with their shattered illusions, falling deeper into derangement. This new series explores life after happiness, after you get everything you want but nothing is as planned. It asks what it means to be a woman among women in a world where men are banished yet lurking.
Rothen creates her work with a complex alternation of analog and digital processes. Her subjects are captured digitally, then re-photographed onto Polaroid film which is digitally scanned and digitally printed for exhibition. Thus Rothen creates a unique retrograde cinematic tonality in her pictures.
Image: Zig Zag Girl © Marianna Rothen
The Little Black Gallery, 13A Park Walk, Chelsea, London, SW10 0AJ
23rd January 2018 – 24th February 2018
Elrich: NTU 2nd Year Photography Show

Joe Barlow / Gina Coelho / Rebecca Collins / Matthew Dennis / James Fitzpatrick Diamond / Lauren Heap / Georgie Jones / Georgina McGrath / Ria Measom / Megan Oakley / Joe Santander
Surface Gallery is pleased to announce Elrich, an exhibition showcasing the work of eleven Nottingham Trent University BA Photography students.
Elrich explores the individual interpretations of 'The Uncanny'. The exhibition brings together a variety of photographic styles and techniques, culminating in a wide range of captivating work. From the intimate portraits exploring the boundaries of time by Matthew Dennis, to the large scale sculptural forms featuring in the work of Georgie Jones, Elrich showcases what some of NTU's brightest up-and-coming photographers have to offer.
Surface Gallery Limited, 16 Southwell Road, Nottingham, NG1 1DL
2nd February 2018 – 10th February 2018
I, Dismantled / Expired England

Paul Daly
In the framework of the »British Shorts« Film Festival Berlin, which took place at several venues in Berlin from Jan 11 – 17, 2018, a solo exhibition with photographs by British film maker and photographer Paul Daly is currently showing at Sputnik Kino until February 28, 2018.
I, Dismantled:
An ethnographic study of a disappearing England as we experience a transitional period in history, as seen through the eyes of the last non-digital generation. Shot exclusively on Kodak 16mm and 120mm film and entering its final year of production, the project will culminate in a 15 minute documentary and photo series. Shot throughout the country I will document generations and places on the cusp of fading into nothing.
Expired England:
All photographs were shot on expired 35mm and 120mm film, focussing on individuals isolated throughout England's main cities and coastal towns.
Image: Beckett, from I, Distmantled © Paul Daly
Sputnik Kino (Höfe am Südstern), 3rd backyard, 5th floor, Entrance via Hasenheide 54 or Körtestraße 15-17, 10967 Berlin
12th January 2018 – 28th February 2018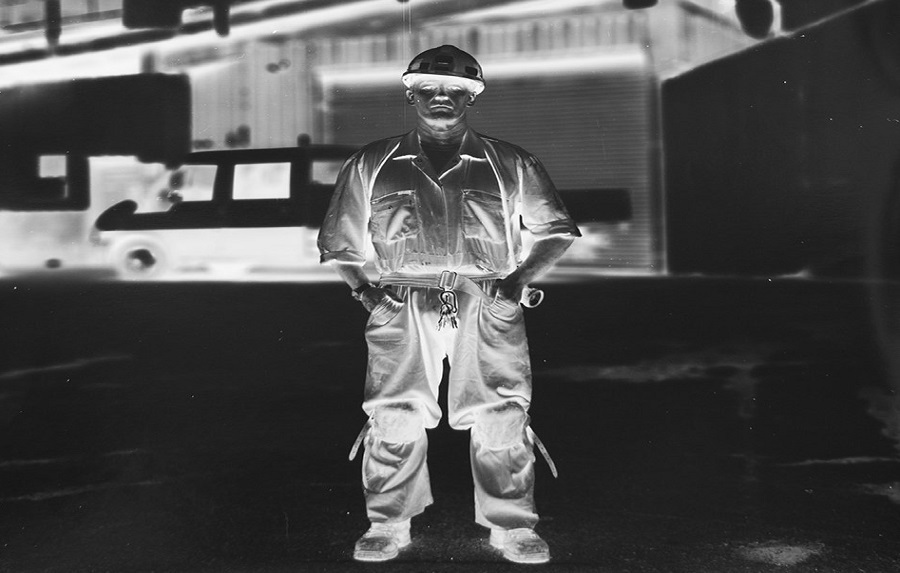 An exhibition featuring large-scale prints and negatives taken by acclaimed photographer Ian Beesley as part of his Artist in Residency at Gallery Oldham. All of the photographs were taken on a huge industrial process camera which was made by Hunter Penrose in the 19th century. Including new photographs taken at the Museum as well as a selection of poems by Barnsley Bard Ian McMillan, the Big Big Camera will make you think again about the process of photography.
"This project explores and contemporises some aspects of photography that are now lost in the digital age, from the sheer physicality of the equipment, to the delicate relationship with light and the uncertainty of a successful creation of a unique photographic image, this is photography in its purest but most demanding form."
Image: © Ian Beesley
National Coal Mining Museum for England, Caphouse Colliery, New Road, Overton, Wakefield, WF4 4RH
24th January 2018 – 28th February 2018
Hales Gallery is delighted to announce "If I told Her," a solo exhibition of work by Andrea Geyer at Hales London. This is Geyer's first show with the gallery, and will coincide with a second exhibition of Geyer's work opening at the Hales Project Room in New York later in 2018.
Geyer's critically-oriented work ranges across media, incorporating text, photography, painting, sculpture, video and performance. It explores the complex politics of time, in the context of specific social and political situations, cultural institutions and historical events. From her early investigations into urban environments and notions of citizenship to more recent research into women's contributions to modernism, Geyer's work continuously seeks to create spaces of critical, collective reflection on the construction of histories and ideas that are otherwise marginalised or obscured.
The focus of this exhibition is a core strand of Geyer's practice, which originated during the artist's 2012–13 research fellowship at the Museum of Modern Art New York, consisting of an ongoing investigation into women who have actively shaped today's cultural landscape and contemporary museums. During this research, Geyer began uncovering a vast network of woman-identified philanthropists, collectors, museum directors, artists, poets, political and social visionaries, and activists. Following their traces revealed collaborative activity across boundaries of class and race, at the intersection of culture and politics, without which it became clear the significant shifts of Modernism would never have occurred: an early history that has been rendered largely invisible by a predominantly white patriarchy that have imagined the mainstream of American Modernism. Delving into the personal and political activities of these forgotten figures across different contexts, Geyer has until now undertaken significant performance and exhibition commissions for institutions including the Whitney Museum of American Art in New York, where she focused on the organisation's visionary founders Gertrude Vanderbilt Whitney and Juliana Force (resulting in Geyer's performance Time Tenderness, the footage of which is featured in the exhibition at Hales London), and San Francisco Museum of Modern Art, where she explored the legacy of the museum's founding director Grace McCann Morley.
Image: Carrie Stettheimer after Genthe © Andrea Geyer
Hales London, 7 Bethnal Green Road, London, E1 6LA

19th January 2018 – 3rd March 2018
Merrie Albion – Landscape Studies of a Small Island

Simon Roberts
For over a decade, Simon Roberts has photographed events and places across Britain that have drawn people together in public, reflecting on the nature of our shared histories and communal experiences.
Merrie Albion – Landscape Studies of a Small Island brings together iconic images and many previously unpublished photographs, recording social practices and customs linked to the British landscape, as well as some of the economic and political theatre that has helped define recent history.
The work in the exhibition ranges across various projects, both commissioned and independently produced over the last ten years, from single photographs made around the time of Roberts's major photographic project We English, to his subsequent work as the official artist of the General Election of 2010, and his series National Property: The Picturesque Imperfect.
While Roberts's interests have often gravitated towards evolving patterns of leisure, and the complex relationship between history, place and culture, he has also photographed events that have a more immediate, topical significance in Britain's recent past, and which collectively form a detached visual chronicle of the times in which we live.
In works such as Broadstairs Dickens Festival, Isle of Thanet, the landscape resembles a stage set for the costumed characters performing on the beach. Other examples of collective gatherings range from religious festivals, such as Eid al-Fitr Celebrations, Jamia Mosque, Bristol; or social and political events represented in After the Riots, London Road, Croydon, and the recent photograph Grenfell Tower, North Kensington, London.
Creating a view of contemporary society that is far from straightforward, Roberts critically conflates the traditional genre of landscape with social documentary, layering ideas of national character through relationships to both place and particular moments in time.
Image: Battle of Britain Memorial Flight, Shoreham Air Show, West Sussex, 15 September 2007 © Simon Roberts
Flowers, 82 Kingsland Road, London E2 8DP
19th January 2018 – 10th March 2018
PLUS… Bonus 9th Exhibition!
GIRL TOWN: Celebrating the Culture of the Female in the 21st Century is an investigative exhibition curated through Instagram. Photographers from around the world share their interpretation of what it means to be female today, in a time of constant socio-political and economic change.
The exhibition was originally shown at Photomonth East London International Photography Festival in 2016 to great cirital acclaim, with over 150 people attending the launch event at St Margaret's House in Bethnal Green, and the exhibition was listed in Whitechapel Gallery's recommended top 5 exhibitions.
The exhibition in Tel Aviv will run from 8 February to 9 March 2018 at Alfred – Cooperative Institute for Art and Culture. We will be holding an Exhibition Preview from 12:00 – 13:00 on Friday 2 February, followed by a portfolio review and discussion session where we are inviting people to come along and share their work, and open up conversations about how we can develop the exchange of exhibitions and projects between us all.
Image © Karen Harvey
Alfred – Cooperative Institute for Art and Culture, Simtat Shlush 5, Tel Aviv-Yaffo 6684714
8 February 2018 – 9 March 2018, exhibition launch event 2 February 2018, 12:00 – 14:00.

Tuesday – Thursday 17:00 – 21:00, Friday 10:00 – 14:00, Saturday 11:00 – 15:00