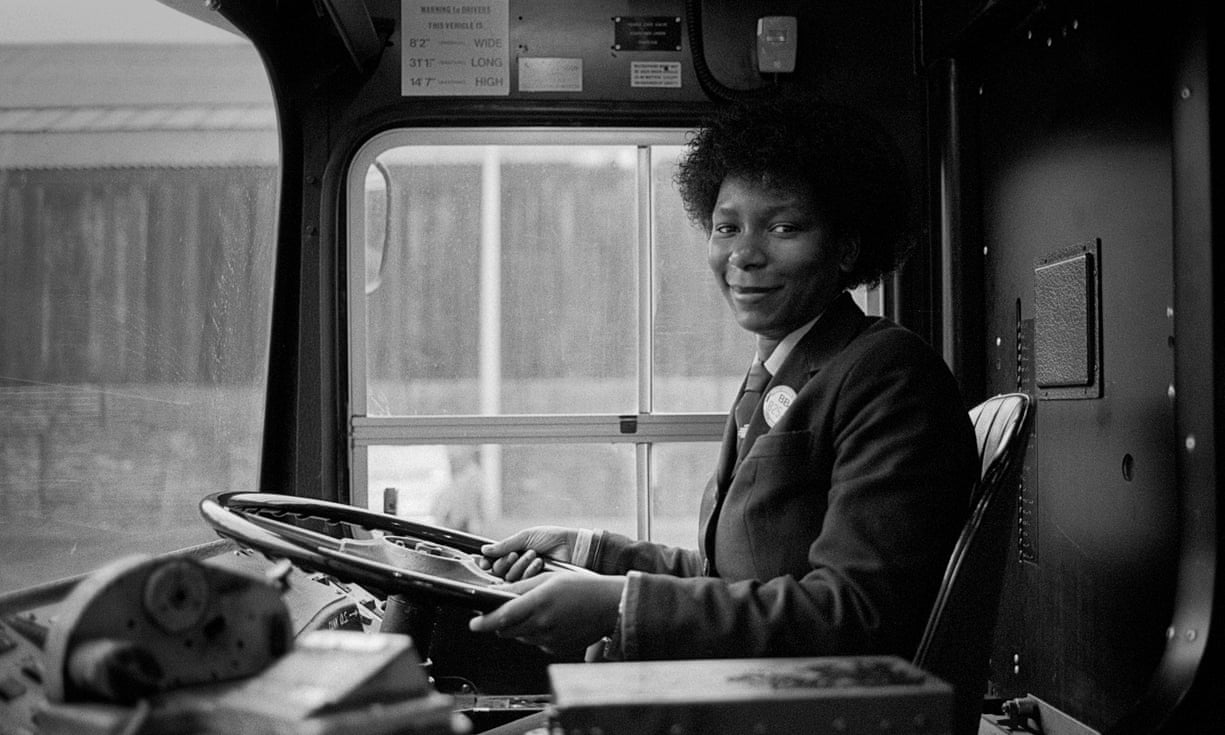 Who We Are
Martin Jenkinson

For over four decades Sheffield-based photojournalist Martin Jenkinson chronicled the drama and detail of our everyday lives.
During the 1980s, Jenkinson became known for his memorable images of British protests which were widely published in the national press. While these photographs became a familiar presence on the front pages, Jenkinson's wider work was no less powerful. Each of the images he created was a candid insight into the communities we're part of and the experiences we share.
Who We Are is the first major retrospective of Martin Jenkinson's work. Offering a sometimes moving, sometimes humorous window onto the city's character, his insightful photographs of Sheffield and its people will go on display alongside some of his most famous protest images, travel photography and more.
Weston Park Museum, Western Bank, Sheffield, S10 2TP
24 November 2018 – 14 April 2019
This Side of Paradise
Narrative, Cinema and Suburbia in the work of Miles Aldridge and Todd Hido
A new exhibition, This Side of Paradise: Narrative, Cinema and Suburbia in the Work of Miles Aldridge and Todd Hido will present twenty large-scale colour works demonstrating how these two contemporary artists investigate the concept of suburbia.
Though works by Aldridge and Hido are visually dissimilar, both artists are recognisable for their distinctive cinematic colour palettes, lighting and compositions, and the suggestion of narrative possibilities beyond the edge of the frame. Whereas Hido presents a shadowy, empty, exterior suburban world, Aldridge presents the viewer with brightly lit, garish interiors, focusing on the imagined lives of the women who inhabit them.
Hido's works in the exhibition are from his ongoing Houses at Night series, depicting isolated suburban homes in America, photographed at night, replete with voyeuristic undertones and implied narrative. Hido's work is concerned with themes of urban isolation and interior lives, lived separately from outward appearances. His compositions are often bereft of human presence, although a singular lit window or an empty car become signifiers of stories left untold.
The depictions of isolated women in highly-stylised, constructed interiors in the work by Aldridge suggest intimate dramas in these stifling domestic settings. His fastidiously constructed tableaus are charged with psychological tension and narrative ambiguity. The often-surreal imagery is heightened by his use of vibrant, richly saturated, acid tones.
Both Miles Aldridge and Todd Hido look to subvert the traditional American suburban fantasy, with the unsettling undercurrents woven through their work. Their aesthetics draw on the influence of Hollywood cinema and directors Alfred Hitchcock and David Lynch. This Side of Paradise presents photographs by each artist that demonstrate their understanding of visual suspense with each work carefully crafted to transform the everyday, and invert the familiar
Huxley-Parlour, 3-5 Swallow Street, London, W1B 4DE
15 November 2018 – 15 December 2018
The Face of Suffrage
Helen Marshall
'The Face of Suffrage', at Birmingham New Street, is a floor-based 200 metre-square photo mosaic revealing the face of a Suffragette with a 'daring and brave' story to tell. It is made up of more than 3,700 photos of women and girls submitted by the public, combined with hundreds of historical images from the early 1900's. The artwork commemorates 100 years of the women's vote from across the West Midlands and beyond. The portrait is of Hilda Burkitt (1876-1955) the first Suffragette to be forcibly fed a total of 292 times. She worked at the Birmingham Women's Social and Political Union in Ethel Street (near New Street station). Hilda threw a stone at Prime Minister Asquith's train as it pulled out of the station and she was incarcerated at Winson Green Prison.
The artwork, created by artist Helen Marshall of the People's Picture, remains in place until December 14th, the date some women first voted in the UK.
In 1918, the Representation of the People Act gave some British women the right to vote and stand for public office for the first time. An exhibition of photos of women involved the Suffrage Movement from LSE Woman's Library will be exhibited at Birmingham Hippodrome with a free talks program until 31st January 2019.
Helen Marshall, the artist behind the artwork and the People's Picture, said: "This artwork is a personal statement as well as a more universal one. I inserted a few women who meant a lot to me including my mother, my daughter, and a friend who passed last year. I researched a number of women from the West Midlands involved in women's suffrage, and whilst all these women have a daring and brave story to tell, Hilda's was uniquely connected to the station and Birmingham. The portrait is of a smiling Edwardian lady, but her story is far from what we might expect, much like the public submissions."
Birmingham New Street Station, Birmingham, B2 4QA
15 November 2018 – 14 December 2018
Since the 1980s Andres Serrano's work has sparked debate and raised questions about censorship, taste, public decency and acceptable modes of expression. In 1987 Serrano received international attention for his work 'Piss Christ', a photograph of a small plastic crucifix submerged in a tank of the artist's urine. The work ignited a national debate on the freedom of artistic expression and the public financing of controversial artworks.
Stills' exhibition will feature a selection of recent photographs from Serrano's 'Torture' series commissioned by socio-political arts organization a/political in 2015. Many of the works in the series were staged at The Foundry, an experimental space in the French industrial town of Maubourguet. Here, Serrano assumed the role of the torturer and under the guidance of military personnel photographed more than 40 subjects in degrading positions using devices that were produced on-site by the local residents. The subjects suffered humiliation and actual physical distress as they were shackled, submerged and forced into stress positions for extended periods of time.
Stills, Centre for Photography, 23 Cockburn Street, Edinburgh, EH1 1BP
30 November 2018 – 3 March 2019
Please note that Stills will be closed from 22 December 2018 until 8 January 2019

From Kabul to Kolkata: Of Belonging, Memories and Identity
Moska Najib and Nazes Afroz
Afghans have travelled to India for centuries but it was in 1892 that they were given a romantic, and lasting identity. This link was set into history when India's most famous modern poet and one of its greatest cultural icons, Rabindranath Tagore, penned his short story about the Kabuliwala.
​Inspired by the story, Moska Najib and Nazes Afroz, embarked on a photographic journey to tell the story of a century of social transformations.
The Brunei Gallery, SOAS University of London 10 Thornhaugh Street, Russell Square, London WC1H 0XG
11 October 2018 – 15 December 2018
Hales is delighted to announce &Information, IAIN BAXTER&'s first solo exhibition with the gallery. Pioneering conceptual artist BAXTER& sees the world as an Infoscape, viewing ordinary life in an extraordinary way. Centring on photographic works, the exhibition explores the artist's philosophy of art as information, encompassing technology, ideology and social organisation.
IAIN BAXTER& was born in Middlesbrough, England before moving to Calgary, Canada, a year after he was born. In 2005 Iain Baxter became IAIN BAXTER&, legally changing his name – the ampersand symbolises an unending collaboration with the viewer and the interconnectedness of life. Often referring to himself as The &Man, he has trademarked his name (BAXTER&), the ampersand (&) and cultivated a brand.
Over a rich and complex practice spanning sixty years, BAXTER& 'has been transforming our terms of engagement with representations of the natural environment to reflect the changing stresses of an information society'. The artist formulated the term Infoscape to express reading the world as a signifier for humanity, through our built societies and methods of communication. In an oeuvre that encompasses installation, painting, performance, collaborations, sculpture and film – photography remains a constant. BAXTER& is never without a camera, a habit ingrained from his time as a Zoology student, learning the rigorous practice of documentation on research trips. Prophetic in his vision of the future of the medium, BAXTER& made the astute observation that photographs primarily act as a "memory device" and a means to understand the world. Predicting the age where photographs equate to validation on social media, BAXTER& coined the phrase 'landscape worship' to describe the phenomenon of people feeling obsessively compelled to document the places they visit.
BAXTER& sees himself 'as an explorer of information'. In this exhibition, the viewer is invited to discover the unique way the artist thinks through the road trips that inform his work. Seen as a coming of age rite of passage, the 'road trip' is equated with a sense of discovery linked to North American identity and popular culture. Writers such as Tom Wolfe and Jack Kerouac, and films like Easy Rider, depict the driver as the ultimate American anti-hero, free from the constraints of day to day life. BAXTER& does not glamorise the landscape, instead abandoning the romantic notion of "the great outdoors," focusing on the mundane elements that puncture the vast expanse of the road as empty billboards and commercial signs become the landmarks.
Hales Gallery, 7 Bethnal Green Road, E1 6LA, London
9 November 2018 – 20 December 2018
Of Gods, Rainbows and Omissions
Athi-Patra Ruga
New and rarely seen works from the internationally renowned South African artist Athi-Patra Ruga.
In his first major solo UK exhibition, Ruga brings three recent series of work together for the first time to unveil a surreal, mythical utopia, filled with a collection of extraordinary characters. Showcasing his diverse practice, from drawings and sculpture to film and photography, plus beautiful hand-crafted petit point tapestry, the exhibition immerses visitors in Ruga's vibrant world – an allegory of post-apartheid political, cultural and social systems, and a shimmering vision of a more humanist future.
The Charles Russell Speechlys Terrace Room Series, Somerset House, London, WC2R 1LA
4 October 2018 – 6 January 2019
Soul of the Underground
Susan Durges
Purdy Hicks is pleased to present a new exhibition of photographic works by British artist Susan Derges.
Much of the work of Susan Derges revolves around the creation of visual metaphors exploring the relationship between the observer and the observed; the self and nature or the imagined and the 'real'. Susan Derges is a pioneering force in camera-less photography.
Characteristically, her practice has involved cameraless, lens-based, digital and reinvented photographic processes, and encompasses subject matter informed by landscape and abstraction as well as the physical and biological sciences. Derges endeavours to capture invisible scientific and natural processes – the continuous movement of water, the evolution of frogspawn or the cycles of the moon. Her practice reflects the work of the earliest pioneers of photography but is also very contemporary in its awareness of environmental issues and the complexity of its conceptual meanings.
In her most recent works, Susan Derges has experimented with new printing methods to create sets of photogravures, in which she presents variations based on her unique works. This series reveals a strong attachment to the printing craft, its infinite possibilities, and the time and precision it requires. The Japanese and oriental influences that have fuelled Susan Derges' works are still very much present in this new set, in their tonal qualities, textures and choice of paper. Image: Spawn, 2017 © Susan Derges
Purdy Hicks Gallery, 25 Thurloe Street, London SW7 2LQ
22 November 2018 – 26 January 2019