– the underlying sounds of a landscape; the ambient murmur of an environment, often hard to hear or tune in to.
A collection of new work, printed and exhibited at Brighton Photography for the first time.
The South Downs seems a familiar place, a patchwork of rolling greenery that is the very definition of the British countryside. Yet within this landscape is an astonishing variety of colours, shapes, sound and light that combine to make this such a unique part of the world.
Each of the photographs is the result of many hours spent in each location, in all weathers and all seasons, trying to get to know every hillside, field and forest along the way and trying to tune into to the 'undersong' of subtle noise, fragrance and colour that are so particular to each. Enjoying the differences from one hillside to the next and trying to capture something of what it really feels like to be there.
Image: © Finn Hopson
Brighton Photography, 52-53 Kings Road Arches, Lower Promenade, Brighton, BN1 2LN
22nd July 2017 – 10th September 2017
Sergey Ponomarev: A Lens On Syria
A Lens On Syria is the first UK exhibition by award-winning Russian documentary photographer Sergey Ponomarev, featuring more than 60 unforgettable colour photographs from two recent bodies of work.
Ponomarev was one of very few photographers allowed access to the Government-controlled areas of Syria in 2013-2014. Assad's Syria offers a rare insight into what life was really like for people living there.
The Exodus captures the determination, endurance and suffering of people from Syria and elsewhere, who sought asylum and a better life in Europe in photographs taken by Ponomarev at the height of the European refugee crisis for the New York Times between 2015 and 2016.
Sergey Ponomarev: A Lens on Syria forms part of IWM's Syria: A Conflict Explored, a season of exhibitions and events reflecting upon the ongoing conflict in Syria.
Image: Homs, Syria, 15th June 2014 © Sergey Ponomarev for the New York Times
IWM London, Lambeth Road, London SE1 6HZ7th
Until 3rd September 2017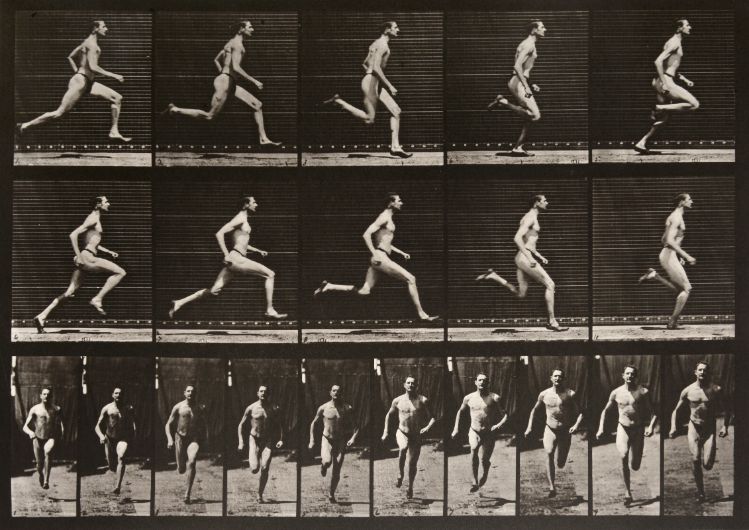 Eadweard Muybridge: Animal Locomotion
An exhibition of photographs by pioneering early photographer, Eadweard Muybridge will open at Beetles + Huxley in July. The exhibition will showcase 65 collotypes prints made by the artist in 1887, from his influential series Animal Locomotion, which features images of animals and people captured in mid-movement.
Muybridge made his most enduring work in the project Animal Locomotion between 1884 and 1887 for the University of Pennsylvania, Philadelphia. Each plate in the series shows the same subject in sequential phases of one action. Muybridge recorded varied forms of movement in a wide range of animals, mostly taken at Philadelphia zoo, from pigeons in flight to the subtleties of gait found in sloths, camels and capybaras. Muybridge also documented human subjects walking, running and descending staircases and engaging in boxing, fencing, weight lifting and wrestling.
The works in this exhibition will collectively demonstrate how Animal Locomotion broke new ground in terms of both science and the emerging art form of photography. Muybridge's work from this period has contributed to the science of physiology and biomechanics and the photographs have had a profound influence on a wide range of artists, including artists Marcel Duchamp, Francis Bacon, Jasper Johns and Cy Twombly.
Born in 1830 in Kingston upon Thames, London, Muybridge emigrated to America as a young man and worked as a bookseller. After being injured in a runaway stagecoach crash in Texas he returned to the UK for a five-year period where it is thought he took up photography. Upon his return to America, he quickly established a successful career as a landscape photographer, producing dramatic views of both Yosemite and San Francisco. His reputation as being an adventurous and progressive photographer led him to work as both a war and official government photographer. In 1872, the former Governor of California, Leland Standford, hired Muybridge to photograph his horse galloping, to discover whether the animal's hooves were lifted off the ground at the same time – a popular debate at the time. In order to photograph the horse at speed, Muybridge engineered a system of multiple cameras with trip wire shutter releases to capture each stage of the movement – which proved conclusively, for the very first time, that a galloping horse lifts all four hooves off the ground. This work laid the foundations for Animal Locomotion.
Image: Animal Locomotion: Plate 60 (Man Running), 1887 © Eadweard Muybridge (1830-1904)
Beetles + Huxley, 3-5 Swallow Street, London, W1B 4DE
18th July 2017 – 2nd August 2017
A Handful of Dust

Photography after Man Ray and Marcel Duchamp
A Handful of Dust is a speculative history of the 20th century, tracing a visual journey through the imagery of dust from aerial reconnaissance, wartime destruction and natural disasters to urban decay, domestic dirt and forensics.
The exhibition features works by over 30 artists and photographers including Marcel Duchamp, Walker Evans, Robert Filliou, Mona Kuhn, Man Ray, Gerhard Richter, Sophie Ristelhueber, Aaron Siskind, Shomei Tomatsu, Jeff Wall and Nick Waplington alongside magazine spreads, press photos, postcards and film clips.
Conceived by writer and curator David Campany, the exhibition takes as a starting point the 1920 photograph taken by American artist Man Ray of Marcel Duchamp's work in progress The Large Glass (1915–23) deliberately left to gather dust in his New York studio. First published in André Breton's seminal Surrealist journal, Littérature in 1922 and captioned as a 'view from an aeroplane' by Man Ray, the photograph went on to appear in various journals, books and magazines, cropped and contextualized differently each time, before the image was formally titled Élevage de poussière (Dust Breeding) (1920) in 1964.
Image: Man Ray/Marcel Duchamp, Élevage de poussière, 1920, Courtesy © Succession Marcel Duchamp/ADAGP, Paris and DACS, London 2017, © Man Ray Trust/ADAGP, Paris and DACS, London 2017
Whitechapel Gallery, 77-82 Whitechapel High Street, London, E1 7QX
7th June 2017 – 3rd September 2017
Gordon Parks – I Am You. Selected Works 1942-1978
The camera can be a powerful weapon against repression, racism, violence, and inequality. The American photographer Gordon Parks (1912-2006) used photography to expose the deep divisions in American society. Parks was an important champion of equal rights for African Americans and in his work addressed themes such as poverty, marginalisation and injustice. Aside from his iconic portraits of legends like Martin Luther King, he especially achieved fame through his photographic essays for the prestigious Life Magazine and films he directed, such as The Learning Tree and Shaft.
With the exhibition Gordon Parks – I Am You. Selected Works 1942-1978, Foam presents 120 works from the collection of The Gordon Parks Foundation, including vintage prints, contact sheets, magazines, and film excerpts.
Gordon Parks is best known for his black and white photographs, but he also produced a lot of work in colour. The exhibition includes many colour photographs as well as portraits, documentary photos and fashion photography. Excerpts from Parks's films The Learning Tree and Shaft are also shown, which, in combination with the contact sheets and magazines containing his work, portray the social and political context in which he worked. It was a time in American history in which the African-American call for equality rocked the nation.
Gordon Parks – I Am You. Selected Works 1942-1978 presents the work of a fabulous storyteller. Parks carved out a place for underexposed topics during a turbulent time in the United States. He stands out for his open attitude to the various groups making up a fiercely divided America. Through the striking narrative imagery of his photos and his films, Parks managed to connect with a wide and diverse audience.
Image: Department Store, Mobile, Alabama, 1956 © Photograph by Gordon Parks. Courtesy of and copyright The Gordon Parks Foundation
Foam Fotografiemuseum, Keizersgracht 609, Amsterdam16th
June 2017 – 6th September 2017
Larry Herman: Clydeside 1974-76
Clydeside 1974-76 covers a vast geographical area from Elvanfoot to Stepps, Paisley to Greenock, as well as many rural districts where people worked in farming, forestry, fishing and tourism. This Clydeside was one of the two or three most intensely industrialised regions of Europe and during the mid 70's was experiencing acute economic decline. For this exhibition, Herman revisited his original project which, until the recent opening at Street Level, was not seen since it was first exhibited at the Third Eye Centre, Glasgow, in 1976 and in the pages of the London based photojournal Camerawork. For Street Level, he hand printed a new set of 78 Black and White silver gelatine prints. Many of Herman's work was in the collection of the Scottish Arts Council, now dispersed to various holdings, including Glasgow Museums and Paisley Art Gallery and Museum. A set is also now held in the collection of the National Galleries of Scotland.
Image: © Larry Herman, Andrea Murphy, Ferguslie Park, Paisley.
Paisley Museum, High Street, Paisley PA1 2BA
7th Jun 2017 – 20th Aug 2017
Spring Tide, Van Zoetendaal & The Collection
Under the influence of the sun, moon and wind, sea levels can sometimes rise much higher than normal. This is referred to as a spring tide. Willem van Zoetendaal sees this natural phenomenon as symbolising his encounter with the millions of negatives, contact sheets and prints in the Collection of the Nederlands Fotomuseum. Anyone embarking on an exploration of this ocean of images will discover unexpected treasures, often throwing new light on the history of photography.
Exercising his expert eye for the beauties of photography, guest curator Willem van Zoetendaal will introduce us to over 200 photographs from the Collection in their original form: that is, directly printed from the negatives. Many of the photographs in the exhibition are well-known in cropped versions but are now being shown for the first time in their entirety. Van Zoetendaal demonstrates that a great deal of information about the photographer's vision and approach can lie in precisely those apparently insignificant and casual details that cropping tends to eliminate.
Van Zoetendaal will reveal the continuing relevance of the photographs in the museum collection by complementing them with contemporary photographs. The combination produces unexpected links and parallels between past and present. For example, the fact that photographers – then as now – were attracted by motifs like solitary trees, moonlight or reflections in water.
Participating photographers
From the Collection: Katharina Eleonore Behrend, Paul Citroen, Cobie Douma, Bernard F. Eilers, Wally Elenbaas, Ed van der Elsken, Kees Hana, Esther Kroon, Cas Oorthuys, Frits J. Rotgans, Paul Schuitema, Paul Steenhuizen, Richard Tepe and Piet Zwart.
Contemporary photographers: Céline van Balen, Ruth van Beek, Holger Niehaus, Arjan de Nooy, Diana Scherer, Otto Snoek and Harold Strak.
Willem van Zoetendaal (b. The Hague, 1950) is a graphic designer who now commissions, edits and publishes photographic books and guest curates exhibitions about photography. Between 2000 and 2014 he ran his own gallery, representing contemporary photographers like Céline van Balen, Koos Breukel and Harold Strak.
Image: Wilma Jeuken, ca. 1933 © Paul Citroen / Nederlands Fotomuseum, ca. 1933
Nederlands Fotomuseum, Las Palmas Building, Wilhelminakade 332, 3072 AR Rotterdam
20th May 2017 – 20th August 2017
Memorabilia – Gábor Arion Kudász
In the years following the death of Hungarian artist Emese Kudász, her son Gábor Arion Kudász catalogued her entire estate and photographed it to secure her fast-fading trace in time, so as to establish a guide to the workings of memory. The method of the photographic research disrupted the order of things she had created, the context that surrounded her and was distinctively her own. Through these cracks hidden aspects of her personality emerged, together with a previously unrealized coherence among her objects; it is no longer possible to tell whether these had existed before or were only the result of the intervention.
Whatever has been in the ground for a long time, say archaeologists, has probably found its best place there. What they mean is that while the excavation may promote knowledge, an important part of the context preserved under the layer of ground is lost when disrupted. The central conflict Kudász faces in his Memorabilia is that on one hand excavation and the documentation of the past serve understanding, on the other hand they accelerate the process of disintegration.
Image: Image © Gábor Arion Kudász
Belfast Exposed Photography, The Exchange Place, 23 Donegall Street, Belfast BT1 2FF
29th June – 19th August 2017
Got an exhibition you want to share? Drop us an email with a paragraph about the exhibition, web link, details and an image.