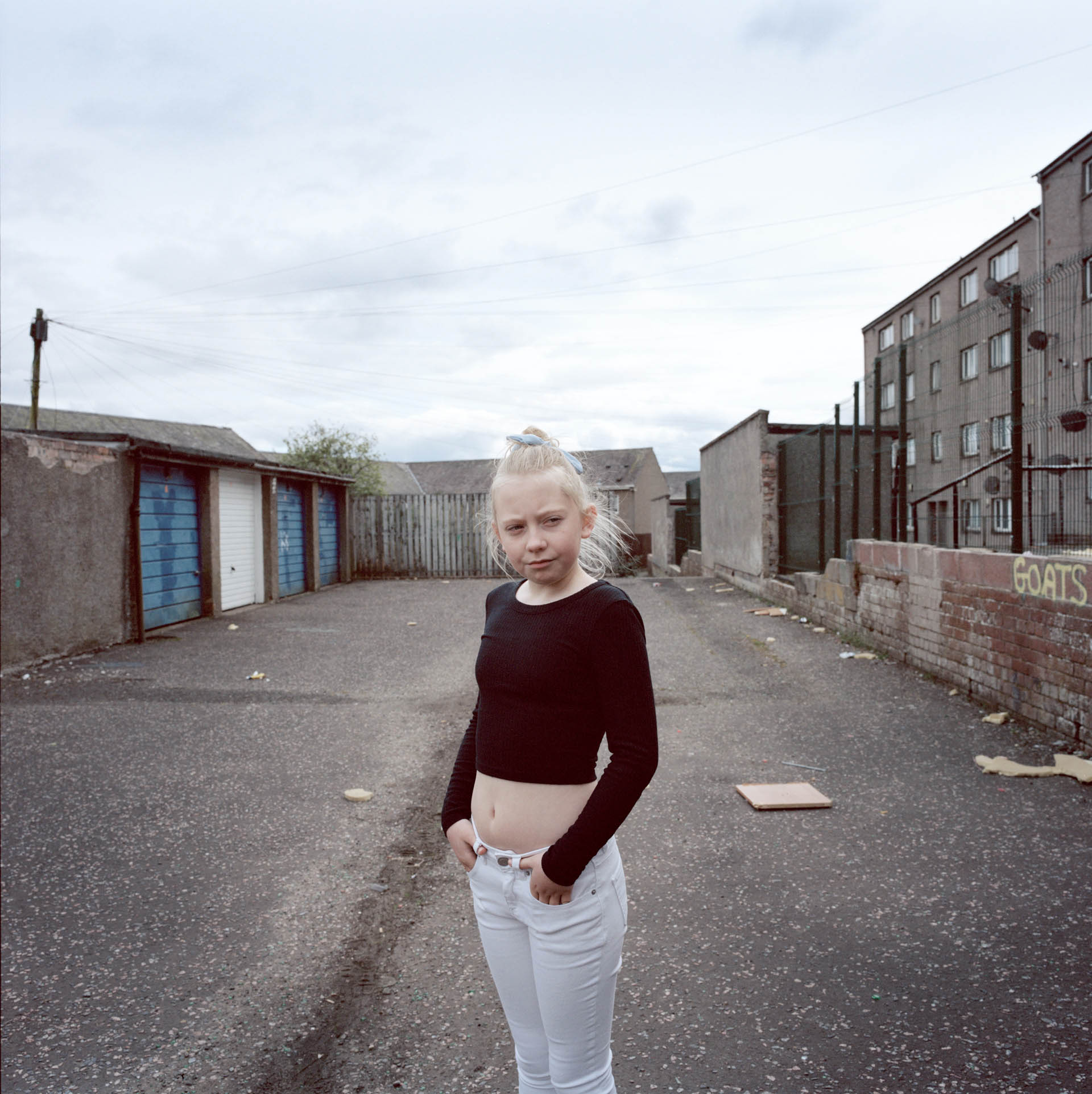 Ambit: Photographies from Scotland
Ambit is a new partnership between Street Level Photoworks and Stills, Scotland's public venues dedicated to photography. The exhibition will be presented across both venues as a joint venture embracing some of the current tendencies and innovative talent from the art photography sector in Scotland.
Each venue will include 5 artists each. Shutter Hub Member Margaret Mitchell will show work at Street Level alongside Tine Bek, Sylwia Kowalczyk, Donnie MacLean and Blazej Marczak.
The exhibition at Stills includes work by Eden Hawkins, Lorna Macintyre, Norman McBeath, Kristian Smith and Karen L Vaughan.
Margaret Mitchell's In This Place looks at family and home, connections and place and touches on issues of social and personal inertia. Behind a personal familial connection sits a larger narrative of social mobility, environment and choice. Do we have choices in life or are some predetermined to an extent and made for us?
Tine Bek's Barok takes the baroque as a main inspiration, not just as a period within architecture or art, but more so as an expression of a certain philosophy. The photographs are all individual pieces, however as a whole, they create this expression of the Baroque, containing an explosion of decorative decadence, richness of colour, materiality and form.
Donnie MacLean's Sealed With A Glasgow Kiss places focus on individual isolation representing the uncertainty and distrust that prevails throughout society. We live in an uncertain time and through the medium of street photography MacLean looks to highlight the fear of social interaction amongst us in the busy realm of city centre streets. The images offer much more than just simply visual sign pointing to the existence of something else. For MacLean it is a 'desperate measure to capture the inner aspect of our life', looking for the indecisive moment, rather than the decisive.
Image: © Margaret Mitchell, from the series 'In This Place'
Street Level Photoworks

Trongate 103, Glasgow G1 5HD
22nd April 2017 – 18th June 2017
All the World's A Stage by Anneleen Lindsay
A solo exhibition by Edinburgh based photographer (and Shutter Hub member!) Anneleen Lindsay; a collection of creative portraits inspired by literature, theatre and film. Anneleen's work has been exhibited internationally and has been featured in the New York Times and the London Evening Standard.
Framed and unframed prints of all images are available to buy.
Please email all enquiries to hello@anneleenphotography.com
Jeelie Piece Cafe and Arts Space

12 Leven Street, Edinburgh, EH3 9LG
3rd April 2017 – 29th April 2017
William Eggleston – Los Alamos
In William Eggleston – Los Alamos, Foam displays his portfolio of photographs that were taken on various road trips through the southern states of America between 1966 and 1974. The exhibition includes a number of iconic images, amongst which Eggleston's first colour photograph.
The American photographer William Eggleston (1939, Memphis Tennessee, US) is widely considered one of the leading photographers of the past decades. He has been a pioneer of colour photography from the mid-1960s onwards, and transformed everyday America into a photogenic subject.
Los Alamos starts in Eggleston's home town of Memphis and the Mississippi Delta and continues to follow his wanderings through New Orleans, Las Vegas and south California, ending at Santa Monica Pier. During a road trip with writer and curator William Hopps, Eggleston also passed through Los Alamos, the place in New Mexico where the nuclear bomb was developed in secret and to which the series owes its name.
Image: William Eggleston, En Route to New Orleans, 1971–1974, from the series Los Alamos, 1965–1974 © Eggleston Artistic Trust 2004 / Courtesy David Zwirner, New York/London
Foam Fotografiemuseum

Keizersgracht 609, Amsterdam
17th March 2017 – 7th June 2017
The Fluid Right Edge by Nico Krijno
The first UK solo exhibition of South African photographer, Nico Krijno will open at Beetles + Huxley Gallery in March. The exhibition will showcase 21 photographs, including new works from his ongoing series 'New Gestures' and 'Generator', illustrating Krijno's playful concern with the deconstruction of the still life genre and the interplay of contrasting images and textures, volume and form.
The subjects of Krijno's still lifes are often temporary, unstable constructions, made of overlooked or ephemeral objects. These structures are created only to be photographed; often toppling or falling to pieces the moment the shutter clicks. In Play dough and Bottles (2016) the still life cliché of the empty bottle is reworked by Krijno; stacked precariously, wrapped in play-dough and doused in popping primary colours. His re-evaluation and playful subversion of the tableau tradition continues throughout the works in the exhibition, shown in his use of disposable materials, such as wooden veneer, bungee cords and plastic washing baskets and brooms.
Photographed in Krijno's studio, these modern still lifes are subsequently digitally reworked. Krijno is especially interested in the transformative power of the photograph to flatten space and confuse perspective, and he utilises digital manipulation to heighten these factors. Component parts are spliced together in Photoshop, scale is altered, backgrounds cut up and reassembled to create foreground details, and negative spaces made entirely solid.
Krijno is part of an international wave of contemporary artists working to establish a new visual language for the still life in the information age. His ongoing exploration of form and material reveal his deeper interest in photographic 'truthfulness'. These are images made explicitly to be read in the context of our internet-led, image saturated culture.
'I want to show that the truth is not something simple, that there are not always clear and definitive answers. So, sometimes by showing things out of context or by marrying opposites I try to force a conversation that combines irony, humour and melancholy. To this end, editing and presentation are crucial in placing nature and our constructed world either in harmony or at odds.' 
Nico Krijno's work has been included in over 20 exhibitions across Europe, South Africa and the US. He was nominated for the Paul Huf Award in 2015 and selected as a Foam Talent in 2016. His limited-edition book 'Synonym Study' was shortlisted for the Paris Photo Aperture Foundation Awards First Photobook Prize in 2014.
Image: Play dough and Bottles, 2016 © Nico Krijno. Image courtesy of Beetles+Huxley.
Beetles+Huxley

3-5 Swallow Street

London W1B 4DE
22nd March 2017 – 22nd April 2017
Watched! Surveillance, Art & Photography
Total surveillance? Video cameras in banks, department stores, and public spaces; algorithm-based advertising and cookies on the Internet; government data collection and private cloud storage—today, we take permanent observation and data sharing for granted as a normal part of our everyday lives. We are constantly using services like Google Maps, watching live streams of films, trying out exciting new health apps and exploring unimagined possibilities for self-tracking. We follow friends and complete strangers on Facebook, Twitter, and Instagram, and we ourselves are constantly being tracked. We profit from the new digital technologies and services and are willing to open up more and more of our private lives to public view. Surveillance and big data have long since become a major social issue.
The Berlin exhibition presents works by around 20 international artists who offer different commentaries on and reactions to precisely this question. It combines emerging artistic practices, represented by young artists such as Julian Röder, Viktoria Binschtok, and Esther Hovers, with the work of internationally recognized artists like Hito Steyerl, Trevor Paglen, Jill Magid, Hasan Elahi, Paolo Cirio, Adam Broomberg & Oliver Chanarin, James Bridle, and Ai Wei Wei to present as wide as possible a spectrum of artistic approaches. The artists in the exhibition appropriate technologies like video surveillance, facial recognition, Google Street View, digital lifelogging, and virtual animation. They probe the need for safety and security, which is frequently used as an argument for increasing surveillance while often ignoring the problems of discriminatory controls and criminalization that follow. The viewer is invited to think about how we can live in a society with diverse surveillance networks without contributing to the inequalities that surveillance produces.
Image: Hito Steyerl, still from How Not to Be Seen: A Fucking Didactic Educational. Mov File, 2013. Courtesy the artist & Andrew Kreps Gallery
CO Berlin

Amerika Haus . Hardenbergstraße 22-24 . 10623 Berlin
18th February 2017 – 23rd April 2017
Ed van der Elsken – Camera in Love
The Stedelijk presents the largest overview of the photographic and filmic work of Dutch photographer Ed van der Elsken (1925-1990) in twenty five years. A unique figure, Van der Elsken was renowned as a street photographer, and is recognised as the most important Dutch photographer of the 20th century.
Ed van der Elsken was a unique figure. The first true Dutch street photographer, he roamed cities like Paris, Amsterdam, Hong Kong and Tokyo seeking out colourful personalities, head-turning young women and wayward youth. Ed van der Elsken both chronicled, and influenced, the Zeitgeist. In his work, he developed a bold, unconventional and personal style. Van der Elsken's presence resonates throughout his work: he cared about making a personal connection with the people he photographed and, like a playful art director, often staged situations, too.
The oeuvre of Ed van der Elsken is mentioned in the same breath as those of legendary international photographers Robert Frank (1924, CH) and William Klein (1928, VS) and his legacy inspires contemporary artists such as Nan Goldin (1953, US) and Paulien Oltheten (1982, NL).
Image: Ed van der Elsken, Beethovenstraat, Amsterdam (1967) © Ed van der Elsken / Nederlands Fotomuseum.
Stedelijk Museum Amsterdam

Museumplein 10, 1071 DJ, Amsterdam
4th Feb 2017 – 21st May 2017
Barbican Art Gallery has invited conceptual documentary photographer and Deutsche Börse Photography Prize winner Richard Mosse to create an immersive multi-channel video installation in the Curve. In collaboration with composer Ben Frost and cinematographer Trevor Tweeten, Mosse has been working with an advanced new thermographic weapons and border imaging technology that can see beyond 30km, registering a heat signature of relative temperature difference. Classed as part of advanced weapons systems under International Traffic in Arms Regulations (ITAR), Mosse has been using this export controlled camera against its intended purpose, to create an artwork about the refugee crisis unfolding in the Aegean Sea, off the coast of Libya, in Syria, the Sahara, the Persian Gulf, and other locations.
Mosse is renowned for work that challenges documentary photography. In his recent work The Enclave (2013) – a six-channel installation commissioned by the Irish Pavilion for the 2013 Venice Biennale – Mosse employed a now discontinued 16mm colour infrared film called Kodak Aerochrome that transformed the green landscape of the eastern Democratic Republic of Congo into vivid hues of pink to create a surreal dreamscape. Questioning the ways in which war photography is constructed, Mosse's representation of the ongoing armed conflict in eastern Congo advocates a new way of looking.
Image: Still frame from Incoming, 2015–2016. Three screen video installation by Richard Mosse in collaboration with Trevor Tweeten and Ben Frost. Courtesy of the artist, Jack Shainman Gallery, New York, and carlier | gebauer, Berlin.
Barbican Centre

Silk St, London EC2Y 8DS, UK
15th February 2017 – 23rd April 2017
Deutsche Börse Photography Prize 2017
The artists shortlisted for the Deutsche Börse Photography Foundation Prize 2017 are Sophie Calle, Dana Lixenberg, Awoiska van der Molen, and Taiyo Onorato and Nico Krebs. The winner will be announced at a special award ceremony during the exhibition.
Image: Wilteysha by Dana Lixenberg. Photograph: courtesy of Grimm, Amsterdam
The Photographers' Gallery

16 – 18 Ramillies St, London W1F 7LW
3rd March 2017 – 11th June 2017
Got an exhibition you want to share? Drop us an email with a paragraph about the exhibition, web link, details and an image.